This article is more than 1 year old
Scosche BoomCan mini travel speaker
Tubular belle?
Accessory of the Week There is no shortage of small speakers for phones and music players, but few deliver much in the way of welly, or even sound quality.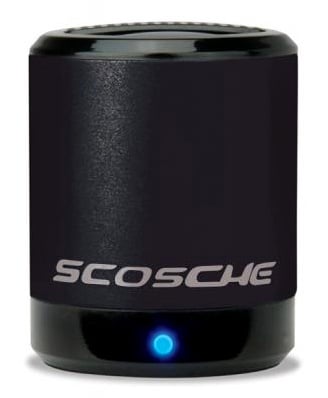 Not that you should expect a pristine hi-fi experience when you're using an ad hoc speaker such as Scorche's new BoomCan, but it's capable of pumping out a reasonably loud sound.
The BoomCan is a 56mm cylinder - with 45mm radius - that has a 40mm speaker cone at one end, a non-slip base at the other and, between the two, a built-in rechargeable battery and a basic, 2.5W amp.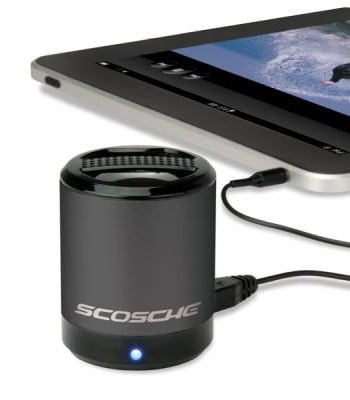 Plays any sound source with a 3.5mm jack
Control is limited to a tiny three-position slider on the base - the BoomCan is either off, on at "mid" volume, or on at "max" volume.
The speaker comes with a cable that sprouts a mini and a full-size USB connector at one end and a 3.5mm audio jack at the other. The latter you connect to the source, the mini USB to the BoomCan.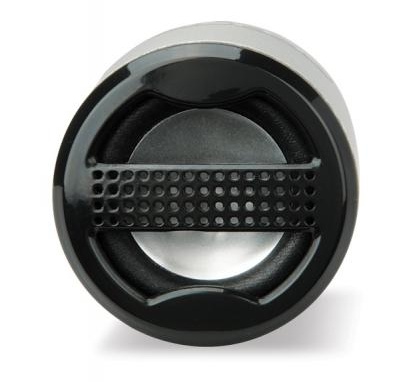 You can see the speaker cone vibrating
Plug the full-size USB connector into an AC adaptor - not included - or a computer's USB port, and you charge up the speaker's 330mAh battery - good, the company claims, for seven hours' playback, and my experience gave me no reason to dispute that.
Each BoomCan has its own 3.5mm audio output, the notion being that you daisy-chain a series of them for a bigger, but still mono, sound. Alas, Scosche only sent me a single BoomCan so I couldn't try this out. At less than £20 a pop, adding new BoomCans isn't going to break the bank.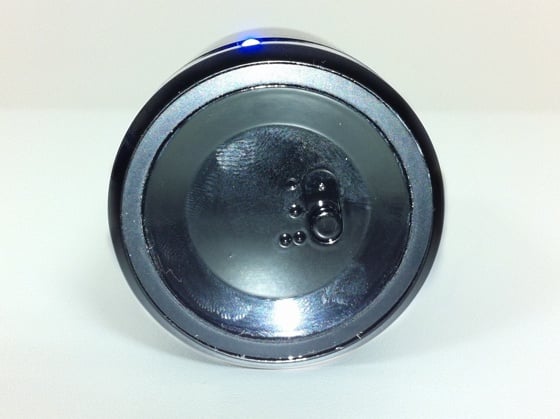 The switch on the base runs from off, through 'mid' volume, to 'max' volume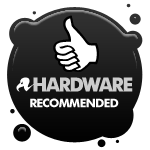 As will all mini speakers, the BoomCan can sound a tad raw when set to max and playing tracks that have been mixed loud. But it generally manages to add enough bass to avoid sounding excessively tinny, and pumps out enough volume to keep, say, a picnic in the park in background music without offending passers-by. Yet it doesn't lose clarity. Not a bad sound at all. ®
Reg Hardware chooses its Accessory of the Week every Friday. Got one in mind you want us to consider? Please let us know
More Accessory of the Week Winners

Panasonic
DMW-LVF1
Vogel's
RingO
Motorola
Atrix
Lapdock
iLuv ICK826
iPad 2 case and
Bluetooth keyboard
Octovo
Solis e-book
Reader Lamp

Scosche BoomCan mini travel speaker
Very compact travel speaker that'll play from anything with a 3.5mm audio socket and delivers a surprisingly good sound for its size.