Irishman's coke-packed abdomen poses for police
Impressive scan of São Paulo narcomule's light lunch
---
Brazilian cops have released an impressive scan of the abdomen of an Irish chap who attempted to board a plane in São Paulo earlier this week packing 830g of cocaine.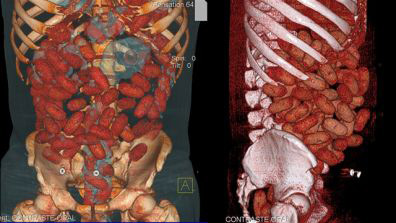 The stash of Bolivian marching powder was packed into 72 "bags", which in turn were stuffed into the guts of the 20-year-old man who was pulled at Congonhas Airport after his "nervous behaviour" aroused security suspicion.
The alleged narcomule - named only as "P.B.B" - was en route to Brussels via Lisbon, but instead found himself in São Paulo's Santa Misericordia Hospital, where the contraband was "removed from his body".
His stay in Brazil could be extended for another 15 years, if he cops the maximum sentence on an international drug trafficking rap for unwisely attempting to fill his Emerald Isle intestines with nose Ajax.
As is traditional, Brazilian authorities say the cocaine "would be worth approximately €150,000". Those of you more conversant with mirrors and rolled-up banknotes can confirm whether this estimate is correct. ®
Bootnote
Reader Pat Coughlin can award himself a pint of Guinness for the tip-off.