This article is more than 1 year old
Celebrating the 55th anniversary of the hard disk
The platters of Big Blue spawn that changed the world
All anniversaries are special, and so is this one. It's particularly special because a billion or more people have been and are being affected by it every day. They switch on their PCs and take advantage of Intel processors and Microsoft's Windows, or Mac OS, thinking nothing of it. But before these, and providing a foundation for them, came spinning disks, rotating hard disk drives, the electro-mechanical phenomenon that the world of computing has depended on for decades: 55 years to be precise.
Like much else in our pervasive IT world the disk drive's roots were laid down by IBM, and first appeared in a product called the 305 RAMAC, The Random Access Method of Accounting and Control, launched this week 55 years ago. Ah, those were the days.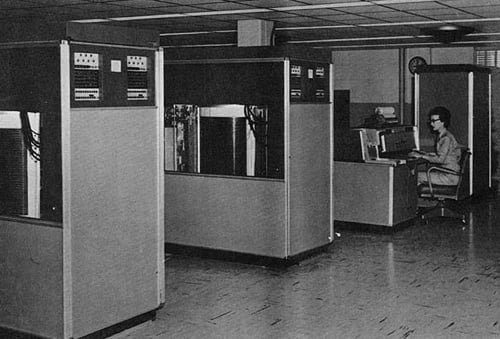 IBM 305 RAMAC in use. The upright disk drive stacks can be seen inside the cabinets.
Cue drum roll
In the 1950s, magnetic drum storage was used with data stored in a recording medium wrapped around the outer surface of a drum. To get higher capacity the drum had to become bigger and bigger. It wasn't very space-efficient but you could have data continuously available instead of having to be read into dynamic memory from sequentially read-in, punched cards.
It's hard to imagine, but once upon a time there was no online data stored separately from a program's data in the computer's dynamic memory, which, of course, disappeared as soon as the application stopped running. The app couldn't be swapped out to disk to let another app in to memory. For one there was no disk and, for two, there were no multi-tasking operating systems.
Magnetic drum memory was a marvel but it was a bit like wrapping papyrus around a barrel; infinitely better than nothing, but not that great actually. What was needed was something with the same random access as drum memory but, somehow, more recording surface, much more, in the same volume.
Juking around
Suppose you could create a jukebox-like design: by stacking "phonograph records", only rather than grooved vinyl platters read with a steel needle, they would be the same recording media and read method as drum memory – only implemented as records, spinning platters, with concentric tracks of data.
There were engineering papers discussing the concept in the early 1950s but it was IBM, in a fantastic burst of innovation, that produced the first commercial hard disk drive product from its San Jose research lab facility in September, 1956. Univac could have got there first but stopped its own disk drive product so as to prevent the cannibalisation of its existing 18-inch drum memory product; a stumble which was followed by others as Univac became Sperry which became Unisys and has always, but always, been in IBM's shadow.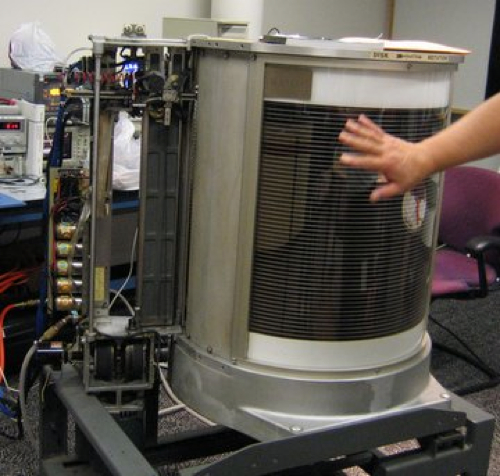 RAMAC disk stack.
Inside RAMAC there were two independent access arms which moved vertically up a stack of 50 disks, 24-inches in diameter, to the right disk, and then sideways across the target disk's surface to read and write data from the destination track. It took, we understand, 600ms to find a record in a RAMAC. The data capacity was 5MB (8-bit bytes, 7-bits for data plus a parity bit) and it would cost a business $38,400 a year to lease it. There was no popping out to your local Fry's to buy one...
The very first commercial RAMAC was used by Crown Zellerbach of San Francisco, a company dealing in paper, which is apt really – the idea of disk records replacing paper records.