This article is more than 1 year old
Sony BDP-S380 Blu-ray player with IPTV
Worth every penny?
Review Sony's BDP-S380 Blu-ray bantamweight packs quite a punch. A mere 36mm tall, it barely looks big enough to swallow discs, but this plasticky pugilist can hold its own against full-size separates and is well stocked with features.

Budget offering: Sony BDP-S380
The BDP-S380 is IPTV enabled, doubles as a Super Audio CD player and is a decent media player to boot. Unlike the brand's two top BDP-S480/580 models it's not stereoscopic. Still, if you want 3D you can always go to a theme park.
Back panel connectivity is certainly up to snuff. In addition to HDMI, you get phono AV outs, coaxial digital audio, Ethernet, USB (used for BD Live storage or Sony's UWA-BR100 Wi-Fi dongle) and component video. The latter has been restricted as part of the AACS copyright regulations and cannot display hi-def (outing BD at a paltry 480i), consequently it's largely redundant.
A second USB resides on the front fascia, for general media playback. While file support is broad, this player is not DLNA compliant and does not offer media access across a LAN, which is rather disappointing.
USB audio compatibility covers MP3, AAC, WAV and WMA, while video includes AVCHD, MPEG1/2, AVI and MKVs. Last year, the latter was a stumbling block for the brand, so it's good to see that's finally been addressed here.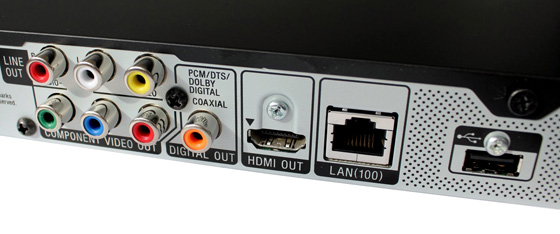 The back panel features a decent array of connectivity
The player's IPTV streaming options are many and varied. BBC iPlayer and Demand5 provide catch-up TV, while LoveFilm subscribers can log into their account to stream movies direct. YouTube and DailyMotion also contribute a bottomless pit of clip fun.