An Angry Birds theme park has opened in China where punters can literally catapult cuddly squawkers at green pig balloons scattered among delicately built toy castles.
The unlicensed attraction, labelled as the first 3D Angry Birds game, is part of the park's stress-reduction festival that runs this September, CNN Go reports.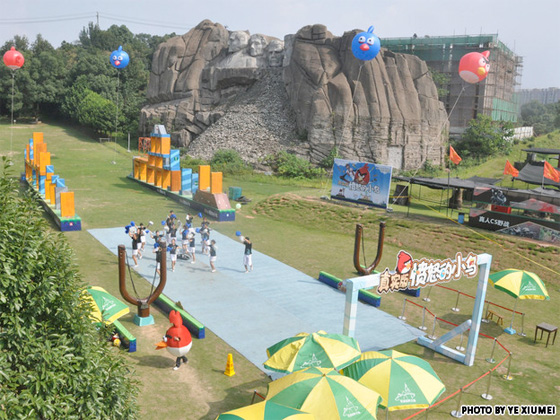 Source: CNN Go
Rovio was unaware of the installation, as nobody had consulted the Finnish outfit. Legal action seems unlikely, through, following comments from Daisy Yang, a spokeswoman for Rovio China who talked up the potential for coalition.
"We would welcome a partnership, but Rovio would need to give them permission to use the Angry Birds game," she said.
China's IP laws being what they are, there's not much Rovio can do about it in any case.
The attraction features in the Window of the World park in Changsha and will remain in place until the end of September, next to a giant replica of Mount Rushmore. According to the park's marketing manager, the game may run longer as it hasn't received as much attention as expected.
It's certainly doing the rounds now, though.
Rovio has developed specific versions of the game to appeal to a more Chinese audience. The first of such, "Moon Festival" for Angry Birds Seasons, landed this month. ®
Similar topics