Anobit's second-generation Genesis solid-state drive has pretty much double the performance of its first-gen sibling.
The latest Genesis is a 2.5-inch form factor SSD with either 6GB/s SATA (T series) or 6GB/s SAS (S series) interfaces. In terms of capacity, it's available in 100, 200 or 400GB, as before, but 800GB and greater are promised.
It does random reads at a rate of 70,000 operations per second, whereas before it clocked 32,500. The random write rate is 40,000 (compared to 24,000), with sequential reads arriving at 510MB/s. The first-gen Genesis did sequential reads at 245MB/s.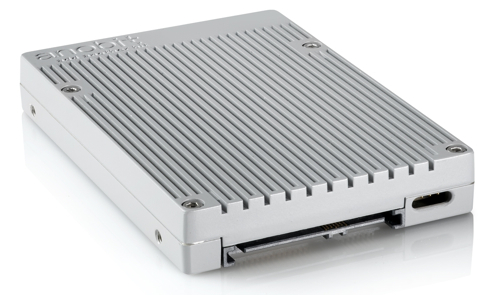 Second generation Genesis
The endurance of the new product is five years of writing up to ten times the drive's capacity every day. It's also described as 50,000 program/erase cycles.
Anobit uses proprietary memory signal processing technology to extract usable data from NAND cells that other suppliers' controller chips would brush off as worn out.
It claims that its technology will make three-bits-per-cell (TLC) flash last as long as 2-bit multi-level cell (MLC) flash. We understand this to mean TLC will have endurance comparable to standard 2-bit MLC flash rather than Anobit's particular flavour of 2-bit MLC, which it says performs as well as classic single-level cell flash.
The MLC competition? There doesn't appear to be much that matches Anobit's feeds and speeds. Intel's SSD 710, for example, does 38,500 random reads per second, 24,000 random writes per second, and draws 270MB/s in sequential reads. It's not in the same ball park. SMART's Optimus SSD offers stronger competition, with its 100,000 random reads per second, 50,000 random writes per second, and a 500MB/s sequential read rate. It supports wideport SAS and has the same endurance as Anobit's Genesis 2.
The Genesis T and S series products will ship in volume in October. ®
Similar topics