"Is this for real?" the Torvalds of Drupal tweeted this weekend, before continuing: "Dries Buytaert Android App". Yes, Dries, it is real.
Buytaert, the founder and leader of Drupal, has been turned into an application for download on the Android marketplace.
Called simply "Dries", the application claims it'll tell you everything you want to know about the founder of the popular open-source content management system that he pioneered at university.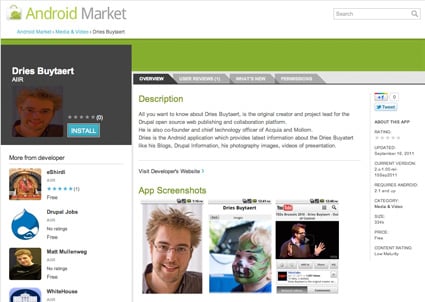 Dries Buytaert, meet "Dries": the programmer in your pocket
"Dries" will serve you the latest information from the Belgian open-sourcer's blogs, posts of his photographs, videos of Buytaert on YouTube, and information about his pet project.
The app, which was updated last Friday and is available for free, was built by AIIR, also responsible for the Kate Weds William app on Android, which also claimed to serve as a one-stop shop – only this time sucking in all photos, videos and articles related to the Cambridges' spring nuptials.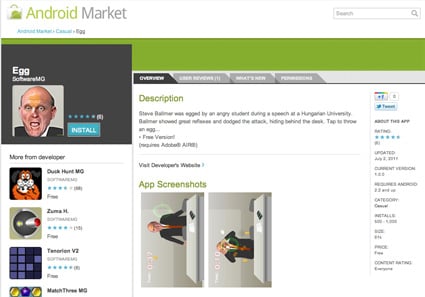 Take aim: relive Steve Ballmer's Budapest egg-scape
To the best of our knowledge, Buytaert is the first open-sourcer and leading coder to have been turned into an app on the Android market. He's beaten such giants as Java father James Gosling, who narrowly escaped death this weekend at a Nevada air show, and Ruby founder Matsumoto Yukihiro – also known as just "Matz".
Buytaert has the final say on any and all changes in Drupal, a project he began in 2001 as a message board. He recently claimed that the CMS which Drupal evolved into today runs 2 per cent of sites on the internet – up from 1 per cent in just over a year.
Buytaert is not the first tech-industry figure to be digitised on the Android market, however. He joins a small club that includes Microsoft's Bill Gates and Steve Ballmer, and Oracle's Larry Ellison.
In true Fortune Magazine style, Gates gets a bio app and a quote generator, while Ballmer and Ellison also get quote generators. You also get the chance to throw things at Gates and Ballmer: custard pies at the former and eggs at the latter in Budapest, Hungary, based on real incidents where Microsoft's most powerful men served as splatter-canvases for flying foodstuffs. ®
Similar topics