Big Blue has joined the ranks of server makers that are pitching servers using over-clocked processors to latency-sensitive financial services companies.
IBM's new System x3650 M3 HF server is based on Intel's "Everest" Xeon 5698 variant of the "Westmere-EP" Xeon 5600 lineup, which has four of its six cores disabled and which runs at 4.4GHz with 12MB of L3 cache shared across those two cores. In the original Xeon 5600 launch in March 2010, the top-bin part was the 130-watt Xeon X5680, which had six cores running at 3.33GHz, and the fastest chip in terms of clock speed was the four-core Xeon X5677 at 3.46GHz.
In February of this year, Intel did a deeper bin sort and delivered slightly higher Westmere-EP clocks, with the six-core X5690 pushing up to 3.46GHz and the four-core X5687 revving up to 3.6GHz.
That extra 800MHz that comes from using the "Everest" variant of the Xeon 5600 is but a mere 22 per cent boost in clock speed over the fastest chip available from Intel, but with certain financial services and big data workloads, which are executing trades and crunching data in real time, every millisecond is money and thus clock speed really matters. While companies have come a long way in parallelizing their workloads, there are still cases where there is a need for speed. And, luckily, the customers who want overclocked machines, which cost more money to make and support, are rich with our money to pay for it.

IBM's System x3650 M3 server
The System x3650 M3 HF server comes in a 2U rack-mounted chassis and has slots for two of the Xeon X5698 processors. The box has nine memory slots per socket with a maximum capacity of 144GB using 8GB DDR3 memory sticks that run at 1.33GHz. IBM only supports 4GB and 8GB sticks on the machine, and only 1.35 volt DDR3 memory, which has lower voltage than standard 1.5 volt memory and which burn less juice and create less heat. The base box comes with 16GB of memory and dual 675-watt power supplies.
The System x3650 M3 HF has two Gigabit Ethernet ports standard, with an option to double that up for failover; it has four PCI-Express 2.0 x8 slots and room for four 2.5-inch SAS or SATA drives. The standard System x3650 M3 server using regular Xeon 5600 processors can have as many as 16 2.5-inch drives across the front, as the picture above shows. So IBM is opening up the front of the server to let more air in to help cool the HF variant of the machine, and to do that it needs to pull put a bunch of drives that would otherwise block airflow, and worse yet, heat up the air.
The System x3650 M3 HF server is certified to run Microsoft's Windows Server 2008, both the original and R2 releases and including the HPC Server edition for supercomputing and the regular Web, Standard, Enterprise, and Datacenter Editions. The 64-bit versions of SUSE Linux Enterprise Server 11 and Red Hat Enterprise Linux 5 are also certified on this box.
The price of the goosed System x server was not announced.
Supercomputer maker Appro International announced its own overclocked server, the HF1, back in October 2010. Silicon Graphics followed up in December 2010 and instead of using the X5698 part, it went to motherboard maker EVGA and got an overclocker system board aimed at workstations and cranked the clocks on a six-core X5680 up to 4.3GHz. This violates the terms of the Intel chip warranty, but SGI is building support for these chips, which will cook after running for a while, into the price.
In April of this year, supercomputer maker Penguin Computing put out an overclocked variant of the Altus 1750 two-socket, 1U rack server that uses two non-standard, four-core Opteron processors from Advanced Micro Devices: the Opteron 4139 running at 3.1GHz and the Opteron 4145 running at 3.5GHz. Regular Opteron 4100 parts run at between 1.7GHz and 2.8GHz, and the Opteron 6100 chips, which have eight or twelve cores, run a bit slower.
Single-socket racker and tower
In addition to putting out the high frequency server for Wall Street, IBM has also announced two single-socket servers that support Intel's current "Sandy Bridge-HT" Xeon E3 processors as well as various multicore Pentium G and Core i3 processors.

The System x3250 M4 is a 1U rack server has quad-core Xeon E3-1200 and dual-core Core i3-2100 processors (which have slower clocks and smaller cache memories than the Xeon E3s) as its standard processors, but dual-core Pentium G620, G630, G840, G850, and G860 processors, which are cheaper than the Core i3 chips because they don't support HyperThreading or Advanced Vector Extensions (AVX) number-crunching, can also be plugged into the System x3250 M4 server.
The machine has four memory slots, with 1GB, 2GB, 4GB, and 8GB DDR3 memory sticks being supported for a maximum of 32GB. This skinny server has two PCI-Express 2.0 slots, one x4 slot used for a RAID controller for its two 3.5-inch SATA or four 2.5-inch SAS or SATA disks. The machine can have a 300 watt power supply or redundant 460 watt power supplies.
The System x3250 M4 supports Windows Server 2008 in its many incarnations (not the Datacenter Edition) as well as Red Hat Linux 5 and 6 and SUSE Linux Enterprise Server 11. VMware's ESXi 4.1 Update 1 hypervisor is also supported on the machine. The System x3250 M4 will be available on October 18; pricing was not divulged.
Not everyone wants to put a rack or a half rack in their office or data closet. For a lot of SMBs, a tower server is, for all intents and purposes, the data center. And thus IBM has revamped its entry tower server with the same Xeon E3, Core i3, and Pentium G processors.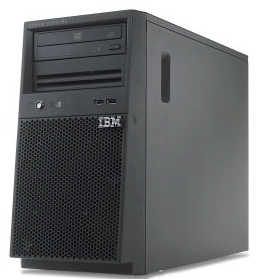 The System x3100 M4 tower server
The System x3100 M4 comes in a 4U mini tower that has a ServeRAID C100 SATA disk controller on its motherboard and the same DDR3 memory options for its four memory slots. The machine does however how more peripheral expansion than its rack-based brother, with four PCI-Express 2.0 slots (one x16, one x8, one x4, and one x1, which is a royal flush of sorts). The machine comes with a 350 watt power supply standard or an 80-plus certified (and more energy efficient) 300 watt supply as an option.
The System x3100 M4 tower server supports the same Windows and Linux operating systems and VMware hypervisor as the x3250 M4 rack server, and similarly will be available on October 18. The one thing this machine did not have, like the previous two, is a price tag. ®
Similar topics