This article is more than 1 year old
New Intel 710: The numbers don't look good
Apparent stinker from Chipzilla
Intel's delayed 710 SSD, its X25-E replacement, has arrived at last, after having been initially outed back in July.
It's a fairly standard – for these days – 25nm, 2-bit MLC solid state drive, with 100, 200 and 300GB capacity points. But it has wildly skewed read and write performance and poor-to-average bandwidth numbers. Its endurance is also not that great.
We had better justify these judgements. First of all its random read performance is 38,500 IOPS, up from the July figure of 37,000. The 710 is supposed to replace the SLC-based X25-E which had a random read number of 35,000 or so IOPS.
Isn't that improvement good?
No, it's extremely modest and also unimpressive, considering that Anobit's latest Genesis gen 2 product does 70,000 random read IOPS; almost twice the 710 number.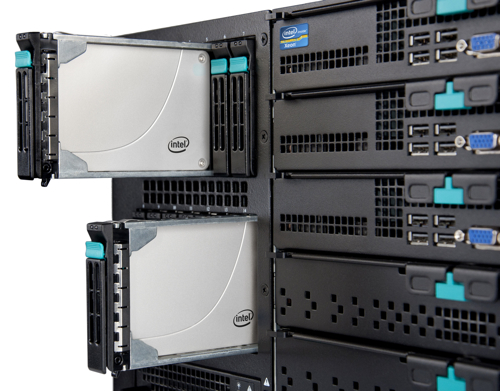 Two Intel 710 SSDs.
The 710's random write number is frankly awful: 2,700 IOPS. At least it is better than the original 2,400 IOPS rating but, compared to the Genesis 2's 40,000 IOPS rating – more than 14 times higher – it is in the abysmal area. Even the old X25-E had better random write numbers, 3,300 or so, than the 710.
Okay – Intel can say it concentrated on random read performance. Well, the Anobit part is 82 per cent better at random reads and 1,400 per cent better at random writes. Draw your own conclusions.
The sequential performance numbers don't impress either. The 710 does sequential reads at 270MB/sec; the second generation Genesis does 510MB/sec.
It gets worse. The 710 has extra special features branded as HET or High Endurance Technology, and these give it an endurance of 1.1PB written. Before you think that sounds a lot, consider that Anobit's gen 2 Genesis can write 10 times the drive's capacity every day for five years. With a 200GB part that means over 3PB, three times more than Intel's 710. HET would better called MET, for Middling Endurance Technology.
It's feasible to suppose that Intel delayed the 710's appearance partly to tweak the performance numbers, as well as ensure the 320 power bricking bug didn't affect it. If that is the case, the company hasn't done very well at all, and will have to price the part down if it is to compete with Anobit-level SSDs.
Is there something we don't understand here? This is Intel. Are the raw numbers telling us the whole story? But the numbers are the numbers, and they make the 710 look pretty awful. Cisco says it will offer the part as an option with its UCS servers, so it must be happy with the price/performance and endurance it is seeing.
The 710 Series is priced at $649 for the 100GB version, $1,289 for the 200GB, and $1,929 for 300GB, all based on 1,000-unit quantities. It is backed by a three-year limited warranty. Intel did not provide shipping information. ®