Apple MacBook Air 11in Core i5 notebook
Small wonder?
---
Air ways
For most of a decade Apple has differentiated its professional laptops from its consumer products by giving the pro models fast FireWire I/O and depriving the bottom-end of illuminated keyboards. Well, with the latest rev of the Air, Apple stops playing Mean Santa, and Thunderbolt I/O and a backlit keyboard are standard on both Airs.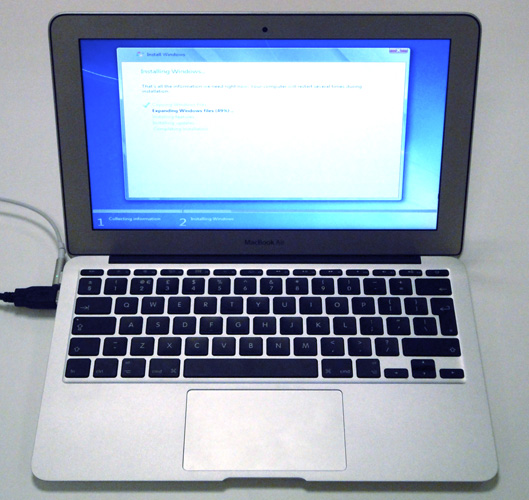 Under Boot Camp it's quite a nifty Windows performer too
As noted in the 13in MacBook Air review, Thunderbolt is currently poorly supported – it might make the laptop 'future proof' but it's not really 'now proof', or 'now useful', because Thunderbolt is a lot of I/O with nothing to do... apart from doubling as a DisplayPort adapter.
You'll look in vain for the promised Ethernet and FireWire adapters for this interface, and apart from some San kit, there's no Thunderbolt desktop storage on the market yet. After a few months, this is a little surprising. New I/O from Apple is typically the starting pistol for vendors to scramble to bring high margin pro kit to market.
Up against recent MacBook Pros, the checklist of what you don't get is no Ethernet (without an adapter), no optical drive, no SD card slot (on the 11in model, at least) and no ExpressCard slot, which is now the preserve of the 17in model only.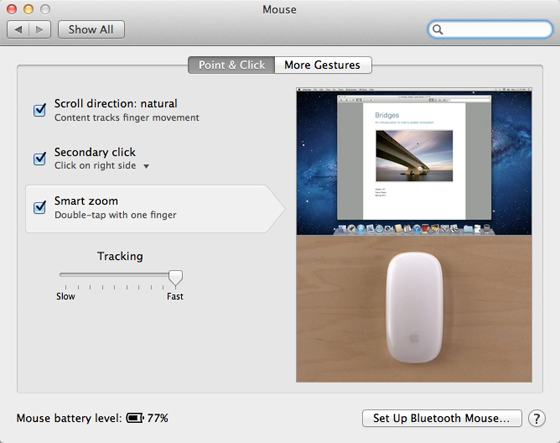 Lion's gestures work on both trackpads and its Bluetooth mouse
If the Air has an Achilles Heel, it's nothing to do with the hardware, but with Mac OS X10.7 Lion. This has introduced some very un-Apple like design decisions – in an attempt to fuse the classic WIMP UI of the Mac with the multitouch direct-manipulation UI of the iPhone and iPad. But instead of simplifying and reducing clutter, Lion confuses and adds complexity. It makes the Air a less deterministic machine than it should be.