UK shops in every industry are missing out on millions of pounds in additional sales because they don't have online services, or the ones they do have aren't good enough to close out sales, according to a new study.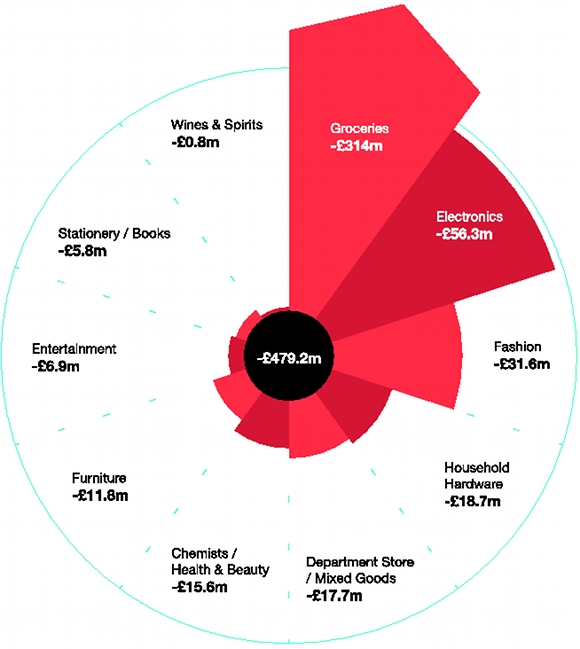 Deficit in sales growth, by sector, due to poor customer experience online. Graphic courtesy of Head London
Supermarket Morrisons was the worst-performing, losing out on £314m of potential sales between 2007 and 2010 as it came late to the web-based home delivery service. The retailer just recently announced that it is planning to join the rest of Britain's grocers with online purchasing by 2013.
However, even stores that let you buy stuff online, such as Dixons and Phones4U, lost out on £32.6m and £17.5m respectively because their web presence isn't integrated well with their core operations, the study by digital agency Head London, helped by economic forecasters Oxford Economics, found.
"Too many retailers are behind the digital curve. They usually have a mobile website, and even an app, but too often these services are not joined up. By not giving customers the information they need on the platform of their choice, they are less likely to complete purchases," said Paul-Hervis Heath, head of design at Head London.
Retailers that are getting it right include Tescos, John Lewis and Boots, the study showed, who bagged £254.8m, £22.8m and £57.6m each in extra sales from their more integrated online experience.
"Each channel should give customers access to relevant information about the store, let them see their purchase preferences and purchase history, provide good customer service, support and easy routes to complete purchases," said Heath. ®