This article is more than 1 year old
Gears of War 3
Get the rounds in
Review When it comes to goodbyes, Gears of War 3 proves that parting truly is the sweetest of sorrows. A swansong of bewildering scope and ambition, it's a near-flawless conclusion to Epic's highly acclaimed series.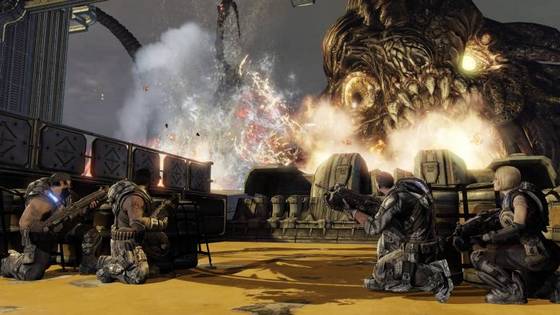 Fire in the hole
With only a handful of games able to rival it for intensity, action and drama, and even fewer for generosity and personality, Epic's finale effortlessly completes the series' claim for a place in the pantheon of greatest ever videogame trilogies.
GoW 3's single-player campaign alone puts most other games to shame. Set two years after the fall of Jacinto at the end GoW 2, the last remnants of the COG army have been driven onto the high seas in a rag-tag armada of warships. With the Locust locked in a war of mutual destruction with the Lambent, their Imulsion-riddled spawn, all hope of regaining a foothold on Sera's lands appears lost.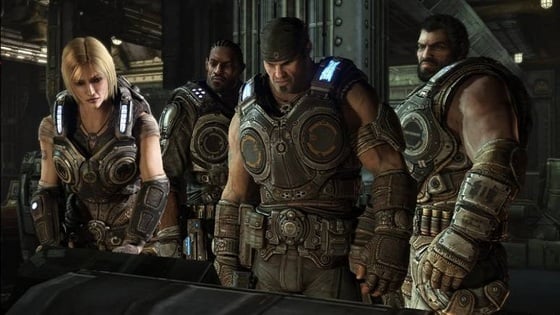 Call that a television? I asked for 50in, not 50mm...
That is until Marcus Fenix receives word his father is still alive and in possession of a super weapon that will annihilate both races, and so sets out with his Delta Squad on one last, desperate mission to save humanity.
OK, so the macguffin-chasing, humanity-saving premise won't win any awards for originality, but the scripting of events and dialogue deserves special praise. By trimming back the cut-scenes and focusing its narrative on Marcus and the Delta Squad, the game avoids the ponderous interruptions to action which hindered GoW 2.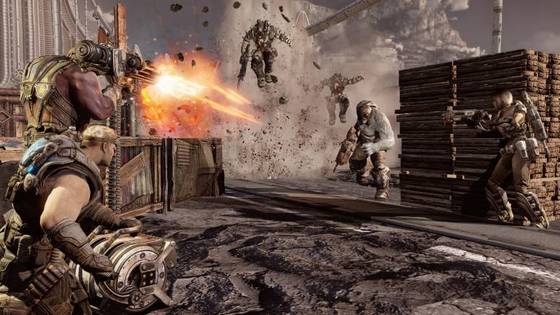 A lot of bang for the jump
That's not to say it dispenses with the series' trademark solemnity - far from it. Delta Squad's ever-engaging ribaldry persists, but the chisel-jawed band of brothers are visibly changed by the loss and suffering they've experienced. Marcus seems less of a loose canon and more at ease with the burden of leadership.