This article is more than 1 year old
Gears of War 3
Get the rounds in
Stir one foot to seek a foe
Baird has toned town his vicious sarcasm. Dom is a shell of his former self, consumed with grief at the death of Maria. And there's even a rare opportunity for the Cole Train to do emotion, when a trip back to his Thrashball team's home stadium evokes bitter-sweet memories of his former glories.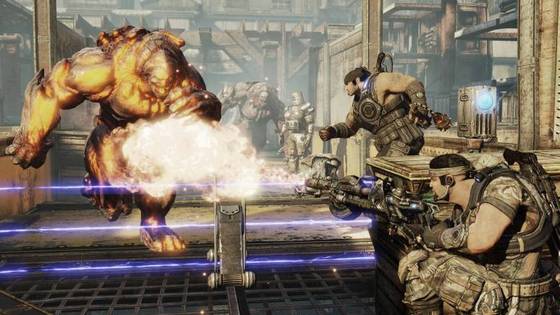 Having a blast
But Epic never allows occasional poignancy to get in the way of a good fight. For 12 brutal hours, the game hurtles you from one cinematic shoot-out to the next with barely enough time to catch your breath.
With the inimitable run-and-gun combat already honed to perfection in the first two games, Epic is free to distil the formula through an awe-inspiring spectacle of combat scenarios, enemy types and level design – all beautified by the Unreal Engine's most eye-catching display yet.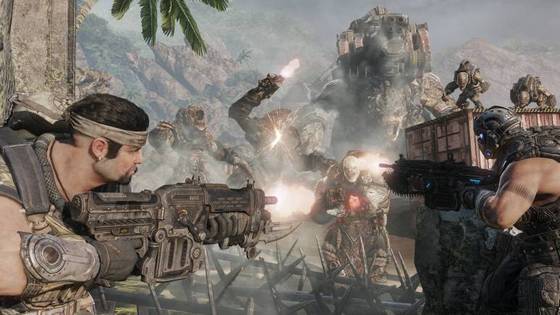 Shooting pains
While the Locust remain your primary enemy, it's the Lambent who really steal the show. Hideously mutated by Imulsion, most 'Glowies', as the COGs call them, take just a few rounds to glowing fissures and carbuncles before exploding in luminous yellow bursts, making them deadly foes in close quarters on the game's toughest settings.
Shooting other Glowies, however, causes them to mutate further, bursting out hideous appendages The Thing-like and exposing new weak spots at their extremities. It's a novel twist that injects a fresh dynamism into combat, as the game demands swift tactical switching between Locust headshots and Lambent weak spots.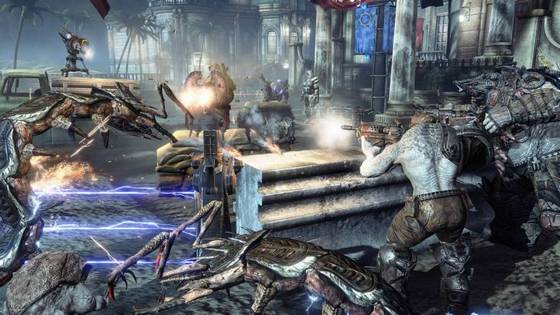 Pop a roach
If there is one flaw in the scintillating campaign, it's that the Lambent don't feature enough. The Locust provide as formidable challenge as ever, thanks to their varied types and aggressive AI, but fighting them for the third time feels a touch too familiar. Luckily, novelty is the first and only casualty of GoW 3, and the feeling only lasts until you're distracted by the next spectacle or set-piece.