This article is more than 1 year old
Gears of War 3
Get the rounds in
Stand-up fight and a bug-hunt
In fact, there's so much going on it's impossible to absorb it all in one play-through. The campaign screams out for a second run in its Arcade Mode, which is the recommended mode for four-player co-op. Much like COD World at War, Arcade combines scoring and leaderboards with Mutators, a system of unlockable Halo Skulls-type modifiers which alter gameplay dramatically, thereby extending the campaign's longevity.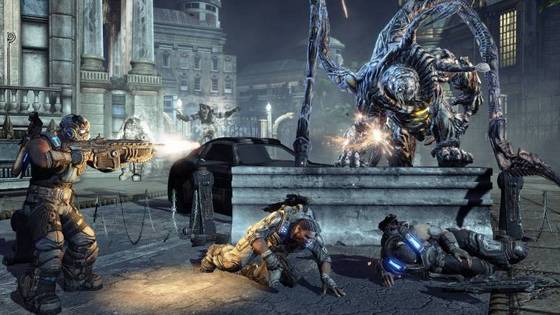 That's one grumpy gargoyle
Arcade mode would be ample additional content in most other games. But Epic doesn't do great content - it does epic content. The wealth of its multiplayer offering is virtually unrivalled. Horde mode gets a welcome strategic refresh, with the introduction of new tower defence-style fortifications, such as pop-up decoys, turrets and spiked barricades.
The new Beast mode turns Horde on its head, placing you in control of an army of Locust and Lambent to destroy pockets of computer-controlled human resistance. And if a little mano y mano is more your thing, there's also a stupefyingly comprehensive and customisable suite of competitive multiplayer modes.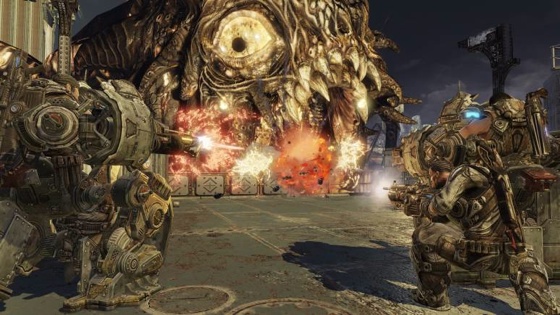 The eyes have it
Verdict
Gears of War 3 is one of the most exquisitely crafted shooters of all time. Its preoccupation with fan service and dogged devotion to brawns over brains won't win over its detractors. And some veterans will find its world a little too familiar at times.
But in refining the genre it established and serving up a veritable cornucopia of online content, Epic has ensured its farewell to Gears' fans is a truly exceptional game. ®
More Games Reviews

Resistance 3
Dead
Island
Driver:
San Francisco
Bodycount
Deus Ex:
Human Revolution

Gears of War 3
Intensely epic finale to a riveting series. Available on Xbox 360 only.