Low-paid Amazon workers, many of whom were temporary agency contractors, sweated this summer in temperatures above 100°F (38°C) in a shipping warehouse, a US newspaper investigation has revealed. The internet giant laid on paramedics for staff at the Breinigsville, Pennsylvania "fulfillment center", with employees taken to hospital who couldn't "quickly cool off".
Fifteen "experienced heat related symptoms" in one day. According to a complaint made to the Occupational Safety and Health Administration (OSHA) by a warehouse worker, this earned them disciplinary sanctions from the online retailer.
Computers monitored the staff, and also conditions in the facility, emailing staff to update them on the current warehouse temperatures. But Amazon hadn't installed air conditioning to lower the temperatures, the article claims. The newspaper obtained documents detailing the communication between OSHA, Amazon and workers via the US Freedom of Information Act.
"Those who couldn't quickly cool off and return to work were sent home or taken out in stretchers and wheelchairs and transported to area hospitals," reports the Morning Call, in a detailed 7,000-word story of life at Amazon.
Amazon expanded hiring in May, anticipating a move in focus away from California, where the state legislature has repealed its sales tax amnesty on online transactions.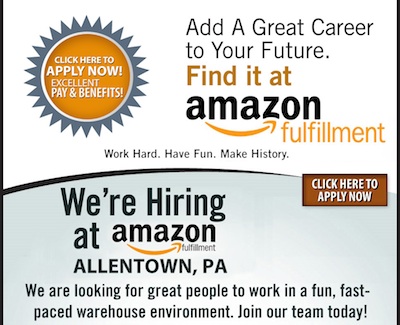 The recruitment website Amazon set up to entice Lehigh Valley locals promised the locals they could "Work Hard. Have Fun. Make History" in a "fun, past-paced warehouse environment". Prospective employees would be required to stand and walk for 12 hours a day and lift 49lbs. Many came through agencies, according to the Call's investigation, with a high turnover rate. Staff feared exhibiting signs of exhaustion for fear of losing their jobs.
Amazon responded that it was caught off-guard by the summer heat, telling the OSHA:
On June 3, 2011, the Lehigh Valley area experienced unusual, extremely high temperatures which caused the heat index inside our building to reach a temperature above 95 degrees in a few areas of the building. As a result of these high temperatures, 15 out of 1,600 employees experienced heat-related symptoms. Six of these employees were treated at a local hospital ER for non-work related medical conditions triggered by the heat. None of those employees was admitted to the hospital; each employee was treated and released the same day. The other employees received water and ice treatment … by our facility's first-aid department. All employees returned to work the same day.
Climate data shows Allentown reaches an average daily high of 84.6°F (29°C) in July.
Comment
One of the more minor aspects of the story, the email alerts, is quite interesting.
During the Virginia Tech massacre in 2007, students were emailed a warning that a gunman was on the loose. Two minutes after the shooting ended, the college emailed students to tell them that classes had been cancelled.
There are drawbacks to an obsessive focus on "transparency", and on being seen to be doing something, rather than on the main point. ®
Similar topics