The O2 Workshop is a small-business drop-in centre, carved out of the company's Tottenham Court Road store, which hopes to provide an Apple-store environment only for suits.
Just as Apple stores have become the place for trendy consumers to be seen hanging out, so O2 is providing somewhere for small companies who have given up the expense of a central London office but are tired of trying to balance three laptops on a Starbucks table when the team does have to meet.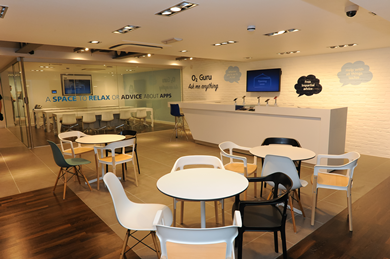 That space comes in the O2 Workshop, within the franchised O2 store at 229 Tottenham Court road, where home workers can gather in semi-private meeting rooms, congregate in the private conference room or amass in the seminar room with three, nine and 29 colleagues respectively.
They can also relax in the lounge where they will be provided with free drinks and "tablet devices for browsing". We're guessing those won't be iPads. There's also free Wi-Fi throughout, in the usual way, and O2 "Gurus" on hand in case anyone fancies buying something while in the store.
Start-Up Britain and Enterprise Nation are signed up to help run weekly seminars for small businesses too, in case one's colleagues are insufficiently edifying.
The idea isn't a bad one. Companies based around home workers need somewhere to get together, and coffee shops aren't well-equipped. Many years ago motorway services suddenly sprouted offices-by-the-hour, for the same reason, though they didn't last.
It's certainly better than just trying to copy what Apple does, when Apple does it so well, and hopefully O2 won't get anyone trying to order pizza, have a date or bring a goat into the building, though if things go well they might get an IPO or two. ®
Sponsored: Practical tips for Office 365 tenant-to-tenant migration