Oracle 'engineers' SMB database appliance
'Smaller, tighter package'
---
Larry Ellison says that he doesn't care if the company's x64 server business goes to zero. But Oracle has once again launched a database appliance based on x64 servers.
The Oracle Database Appliance announced today is one of the four new "engineered systems" that Oracle is promising to launch over the next few weeks, and it is very likely what the rumor mill was talking about when it mumbled that Oracle was going to offer an "Exadata mini".
Based either on two-socket Xeon 5600 or eight socket Xeon 7500 or E7 processors, Exadata is a cluster of rack servers that run Oracle's database and its Real Application Clusters (RAC) extensions. They also include disk subsystems that have been goosed with algorithms for moving data in and out of flash and disk very quickly over an InfiniBand network, keeping the database compute nodes well fed. The Exadata X2-2 is based on Oracle's Sun Fire X4275 server, and the Exadata X2-8 is based on the chunkier Sun Fire X4800 servers.
The Oracle Database Appliance, which co-president Mark Hurd exclaimed as "exciting stuff" with a "smaller, tighter package" during the Webcast announcement, basically compresses an Exadata cluster down into two server nodes, putting the storage, flash, and compute all into those two nodes. Instead of linking the nodes together with Quad Data Rate (QDR) InfiniBand switches as in the Exadata system, they are linked through cheaper and slower Gigabit Ethernet switches – which are good enough for the SMB and departmental OLTP and data warehousing workloads that Oracle is targeting with the appliance.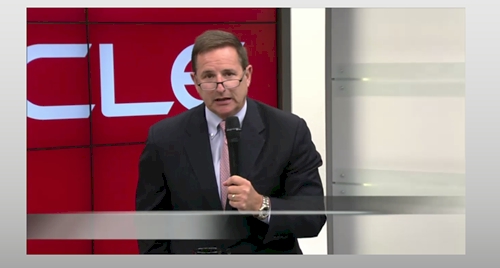 An excited Mark Hurd, co-prez of Oracle
The database appliance is based on the company's Sun Fire X4370 M2 server, consists of a pair of Sun Fire X4270 M2 two-socket Xeon servers.
For supporting relatively small database workloads, Oracle has equipped each of the machines with two Xeon X5675 processors, which have six cores, run at 3.06GHz, and 12MB of L3 cache memory spread across those cores. Each server gets 96GB of main memory (leaving a third of the memory slots open for expansion), two 3.5-inch 73GB solid state drives for storing database redo logs, and ten 600GB SAS drives for storing databases.
The server nodes each have a pair of mirrored 2.5-inch, rear-accessible 500GB SATA drives for hosting the operating system used on the appliance, which of course is not Solaris Unix but rather Oracle Enterprise Linux 5.5, Ellison's RHEL-ish clone. Each server also has an internal 4GB USB stick, which presumably is used to host Oracle VM, Oracle's riff on the Xen hypervisor, should customers want to go virtual with their database appliance. Across the two server nodes, the Database Appliance has 12TB of raw storage space, and in addition to redundant networks, it has redundant power supplies and cooling. You pay one price for the hardware: $50,000.
No fuss, no muss, and presumably not much wiggle room on the pricing.

The Oracle Database Appliance – database not included
That price does not, however, include the cost of the Oracle 11g database. You need to buy 11g version 11.2.0.2 and Oracle strongly suggests you buy RAC for either active-active or active-passive clustering between the two server nodes. If you go active-active, you have to buy licenses for at least four cores; if you go active-passive, then you only need to buy 11g for two cores. The active-active setup can span all 24 cores, while the active-passive will only have 12 cores of oomph. If you have Oracle 11g Enterprise Edition licenses, you can transfer them to this machine.
In addition to Oracle Enterprise Linux and 11g, the Database Appliance has a wizard-driven setup and management console called Oracle Appliance Manager. This, in essence, is what turns a pair of servers running an 11g database into an appliance. All of the automatic memory and storage management features of the 11g database are turned on and tuned for this setup, and Appliance Manager can detect and sometimes correct problems with the hardware and software; it also has a phone-home feature that alerts Oracle when something has gone bonkers and automatically dispatches an Oracle engineer to fix it.
Because the servers, operating system, and database software all come from Oracle, that gives you one throat to choke. (Oracle didn't say which one it was, but it is probably Hurd, not Ellison.)
The Oracle Database Appliance is available now. Oracle plans to sell it directly as well as through the hardware reseller channel and through the 10,000-strong group of independent software vendors that have certified their apps on Oracle databases. ®