Start-up Cache IQ is adding its caching product to the existing roster of plug-in filer accelerators.
Asserting that it's the industry's "first smart NAS acceleration device", which will amuse Avere and Alacritech, Cache IQ's RapidCache appliance sits in the Ethernet data path between NAS NFS-using arrays and accessing servers. Its software analyses the data flowing along the path, identifies the active application data set and puts it into the RapidCache.
The appliance has 144GB of DRAM and up to 3.2TB of flash. It consists of data servers and flow directors, and an IQ OS.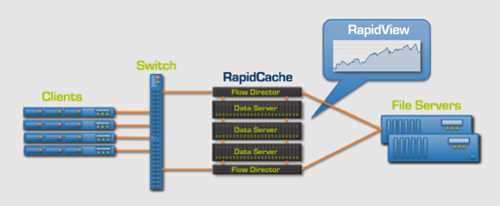 Cache IQ's RapidCache design
A single DS100 commodity hardware-based data server system can deliver up to 500,000 IOPS and has a bandwidth of more than 10Gbit/s. It supports up to four 10GbitE links and has various component redundancies to ensure availability.
DS100 nodes can be clustered, like Avere's FXT nodes, and dynamically added or removed. Flow directors, 10GBitE switching boxes, front-end the data servers to the network between the filers on the one hand and accessing application servers on the other.
We don't know if the data in the cache is tiered between DRAM and flash or stored purely in DRAM; the latter looks more likely. We do know that the network is analysed dynamically and as the active data sets in servers change so does the cache contents. Also what gets cached can be managed by administrators.
RapidView software provides a historical view of what's going on plus troubleshooting capabilities.
The appliance is rack-mounted with flow directors being 1U boxes and the data servers looking like 3 or 4U ones.
Greg Dahl, the products and strategy EVP at Cache IQ, said: "Instead of blindly caching data or attempting to tier storage, RapidCache maximises existing storage investments. We provide complete usage visibility, speed up your applications by caching the most critical data, and automatically troubleshooting bottlenecks."
Backend filer data access is accelerated by the RapidCache, and you can think about ending the storage of hot data on expensive hard drives in the filers. Cache algorithms take time to react and initial access to a new app's data set will be at filer access speed until the RapidCache is loaded.
As a first reaction, view RapidCache as a simplified method of doing what Avere does, and contrast the price/performance/manageability of the two approaches, together with Alacritech's, to see what's best for you. ®