OpenStack adds web dashboard to 'floating Linux kernel'
Devil code does authentication too
OpenStack – the open source "infrastructure cloud" project founded by Rackspace and NASA – has released a new version of its platform, adding over 70 tools to the existing code while unveiling two new creations: a web "dashboard" for both administrators and users, and an authentication system that spans the platform.
Codenamed "Diablo", this is the first version of OpenStack to arrive under the project's new six-month release schedule. Initially, releases arrived every three months. With Diablo, developers from myriad member companies have beefed up the project's existing sub-platforms – the Nova compute fabric, the Swift storage platform, and the Glance image manager – but they've also launched separate projects for the dashboard and user authentication.
Led by Nebula Inc., the Dashboard project provides code for a web-based portal where users can provision infrastructure resources, including virtual servers and storage – and where administrators can monitor and manage the platform as a whole. "We want to make OpenStack something that's more accessible to companies that want to deploy this kind of technology," Jonathan Bryce, chairman of the OpenStack policy board and Rackspace employee, tells The Register.
The platform has long offered what Bryce calls a "rudimentary" dashboard, but he says this work has now "been elevated to full component" that is "tightly integrated" with the platform.
Keystone – led by Rackspace itself – provides a single authentication system for use across all OpenStack platforms, including Nova and Swift. This too, Bryce says, is meant to make the system easier to use, plugging straight into existing corporate authentication directories.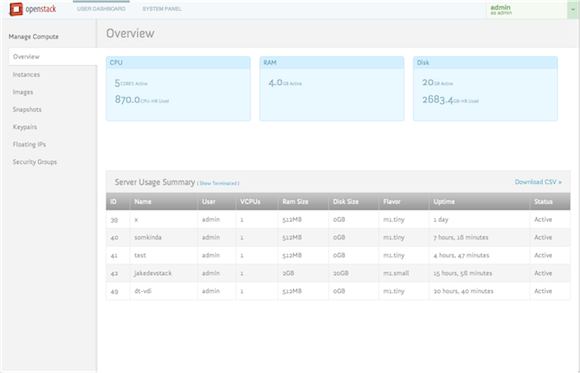 OpenStack Dashboard
Bryce and OpenStack have also announced a third new sub-project, OpenStack Quantum, which handles networking resources, but this won't officially arrive until at least the next version of the platform, Essex, due six months from now. Cisco has very publicly put its weight behind OpenStack, and it will lead the Quantum project alongside Nicira, Citrix, Midokura, and Rackspace.
Quantum is a means of controlling all networking-related resources on a particular cloud, including virtual resources as well as physical gear. Separate projects, Bryce says, will cover other virtual networking tasks.
NASA and Rackspace first unveiled OpenStack in the summer of 2010, calling it a truly open source platform for building "infrastructure clouds", online services that provide on-demand access to virtual computing resources that scale as needed. These might be "public clouds" – web services similar to Amazon's AWS that can be used by anyone – or they might "private clouds" that are used with a particular company.
In its earliest days, NASA called the project a Linux kernel for the cloud. The spacemen founded OpenStack in part as a response to Eucalyptus, an open source infrastructure cloud project that NASA believed wasn't open enough.
OpenStack Nova is based on a compute engine and fabric controller designed and built by NASA, while Swift grew out of an object storage platform created by Rackspace. Nova underpins NASA's internal Nebula compute cloud, and a version of Swift drives Cloud Files, Rackspace's public storage service. Glance – a later addition to the project – handles discovery, public registration, and delivery service for virtual disk images.
With the Diablo release, Nova now includes a distributed scheduler, letting you deploy virtual machines across disparate data centers, and it offers a "high-availability networking mode" designed to prevent downtime when a primary server fails. Meanwhile, Swift is now designed to let you more easily replicate particular data contained in disparate data centers. ®