This article is more than 1 year old
Lingo iMini DAB/FM iOS pocket tuner
Digital switchover
Accessory of the Week DAB radio: always a contentious topic given its cost and varying fidelity. But a DAB radio accessory for iOS devices and for £55 too? You might as well skip the rest of this waffle and head for the comments now. Go on, you know you want to.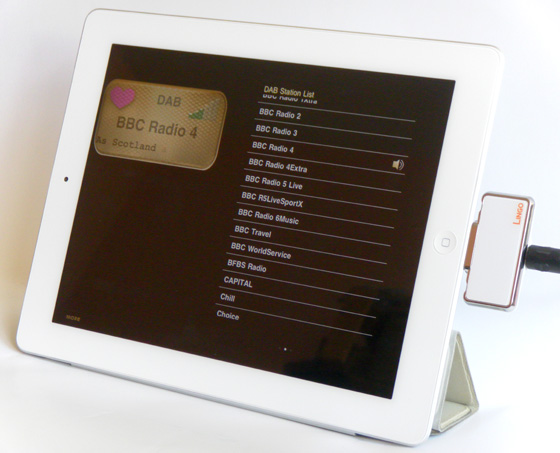 Lingo's iMini: puts DAB on your pad
Ah, didn't get rid of you that easily then, which is just as well, as the Lingo iMini DAB/FM radio attachment turns out to be a rather neat host-powered tuner. It relies on Apple's standard 30-pin dock and Lingo's free Go DAB! iOS app. Set up is fairly straightforward; download this app and then plug in the iMini to your iPod Touch, iPad or an iPhone 3G or higher. The 3.5mm stereo jack at its base works with headphones or can be connected up to powered speakers or a hi-fi amp.
Whatever you connect it to, the lead doubles as an aerial. Tests with headphones and connecting to an amp were more or less trouble-free, but when using some XMI X-mini portable speakers the cable needed more careful positioning before the initially warbly reception settled down. Bear this in mind when you run the Go DAB! app, as you'll need to scan for stations in Settings menu.

Pocket-friendly: even works with the old iPhone 3G and is also available in black
Interestingly, the app's main page features more than just DAB and FM tuner options. From the MP3 icon you can access the iTunes music on your iOS device and add them to a rather basic playlist. Fortunately, AAC files are supported too. Alas, there was not a sound during playback, but this was remedied instantly, as soon as the volume slider was moved.
The Internet radio option has stations delivered from Shoutcast, which didn't show up the ever-eccentric Resonance FM and there was no way to manually add streams. YouTube is on here too and, by now, you might be wondering why there is this duplication of services. The reason must surely be that if you're already plugged into the Lingo Mini then this saves you faffing about, swapping cables over to the iOS device output.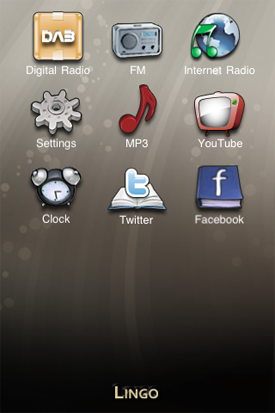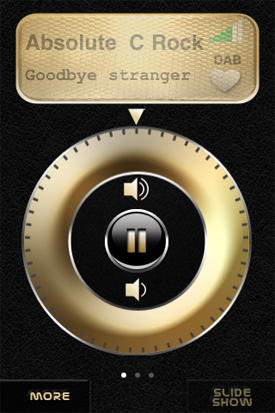 Menu choices and radio controls
Other main menu functions include a clock, but no alarm with a weather feature that resolutely refused to report on the conditions in London. Facebook and Twitter also make an appearance here. Integrating Shazam into this array would have been a nice touch for identifying tracks – something for the next update, maybe?
In use, the DAB tuner has three pages you swipe through: the volume/mute controls with a dial for scrolling through channels, station listing and favourites. Annoyingly, there is no FM scanning option (nor RDS), and hence no FM station listing page. FM tuning is a manual affair from the dial around the volume control which is a bit of a fiddle. Thankfully, FM favourites can be added.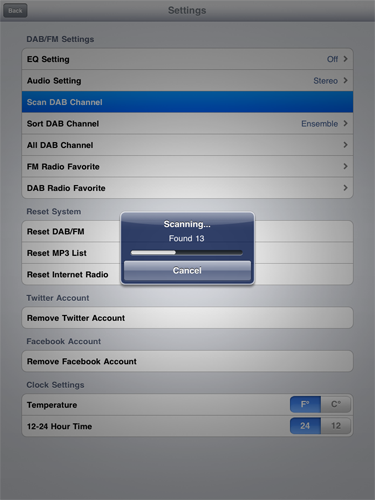 Set-up options: alas no scanning for FM stations
I began testing with an iPhone 3G and soon discovered that the Go DAB! app won't play in the background with this old model, although you can lock the phone and wander around with it playing in your back pocket. Being so small and light, you won't notice it's there and the headphone socket is in the perfect place. The DAB reception, in London at least, was robust when on the move – even in shops and cafés – with only occasional glitching.
The FM stereo reception, while well sustained, was quite hissy. Still, if this gets too bad, the Go DAB! settings allow you to perform the old trick of switching to mono to kill this background noise, which worked a treat.
On the iPad, multitasking is possible and so Saturday lunchtime was spent in a café tuned-in to DAB whilst surfing the web and e-mailing. The only real issue that appeared, when using both the iPad and the iPhone, were the sporadic jumps in volume – usually going just a couple of notches louder within minutes of the device being activated.
Also, on a few occasions, I did find myself pressing the mute button on my headphones cable, which didn't work, but would be handy if it did. And to add to the wish list, some dynamic levelling for classical music stations would be useful too. I've seen this is a feature on Pure radios and it would be ideal for outdoor listening.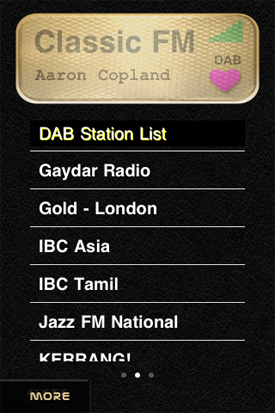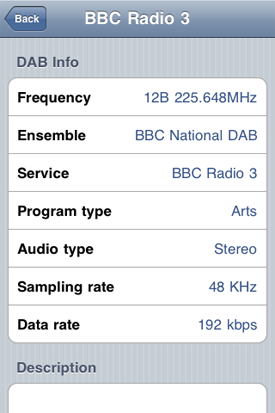 Station listings and broadcast channel information
Being a DAB device, the Lingo iMini does consume a fair amount of juice and I noticed the iPad dropping by around eight per cent an hour and my aged iPhone 3G power diminishing by two to three times that. Of course, your mileage may vary. Incidentally, the iMini can display DAB visual content as as slideshow, but I couldn't find any UK stations broadcasting with images.
Verdict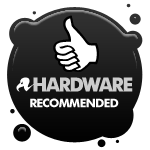 We've become so used to the idea of dinky AM/FM radios falling out of breakfast cereal boxes, that the asking price of a portable DAB device always raises an eyebrow and excludes it from becoming an impulse purchase. And it's the cost issue that affects the overall rating here, more than anything else. For mobiles, the Nokia alternative costs a tenner less, but that's still no bargain. Yet, as a dedicated radio listener and wandering iOS device user, I'd rather have the Lingo iMini than not. Indeed, it is a convenient and fairly well thought out hardware and software combo that looks like it could get even better in future updates. ®
Reg Hardware chooses its Accessory of the Week every Friday. Got one in mind you want us to consider? Please let us know
More Accessory of the Week Winners

Scosche
BoomCan
mini travel speaker
Panasonic
DMW-LVF1
Vogel's
RingO
Motorola
Atrix
Lapdock
iLuv ICK826
iPad 2 case and
Bluetooth keyboard

Lingo iMini DAB/FM iOS pocket tuner
Pocketable DAB/FM tuner for iOS devices.