Apple has issued a voluntary recall of some of AC wall adapters and travel adapter kits designed for the UK, Hong Kong, Singapore out of concern customers could get a jolt.
"In very rare cases, affected Apple three-prong wall plug adapters may break and create a risk of electrical shock if touched," said the company in a statement published on its website.
Apple says it shipped these wall adapters – which the company calls "duckheads" (at least in the two-prong form factor) – with Macs and some iOS devices between 2003 and 2010, in addition to including them in its Apple World Travel Adapter Kit.
Six incidents involving these adapters have been reported worldwide, according to the company, which explains that shoddy fixtures may break and expose electrified metal parts. Apple provided no details about the condition of those complaining about sparky kit; in response to an email from The Register, the company merely confirmed it wants its misbegotten adapters back.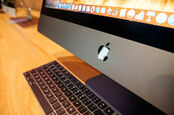 Huge news from Apple: No, not mags, games or TV – more than 50 security bugs to patch
READ MORE
The three prong wall adapters at issue are all white, in contrast to newer models which are partially gray, as depicted on Apple's website. The handslab, laptop and wrist strap biz is offering an exchange program to allow customers with dud gear to swap it out for something engineered with a bit more attention to detail.
A mere three years ago, Apple was doing much the same for related electrical connectors, specifically its two prong AC wall plug adapters designed for Argentina, Australia, Brazil, Continental Europe, Korea and New Zealand. The flaw identified in 2016 was the same as the current current [stet] problem: The adapters could "break and create a risk of electrical shock if touched."
Apple's USB power adapters are not affected by this recall, but they've posed problems in the past. In 2014, the Apple 5W European USB power adapter posed a risk of overheating. It wasn't recalled but Apple did start a voluntary exchange program.
In 2013, Apple launched a USB Power Adapter Takeback Program to encourage people to turn in third-party power adapters because of reported problems with counterfeit kit. And then in 2008, Apple announced an Ultracompact USB Power Adapter Exchange program.
Whatever peripheral manufacturing issues Apple may have to iron out, they're nothing compared to what Samsung has to deal with. ®
Similar topics