This article is more than 1 year old
OCZ flashes its cache at hard drives
SSD has got the write stuff
Hard disk drives are getting a caching flash wrapper if OCZ has its way. Watch out for this SSD supplier's Synapse caching flasher.
Not content with the RevoDrive Hybrid, a PCIe card containing a flash memory store and DataPlex software to manage the on-card hard drive, OCZ has revved its cocktail of components and crafted a new drink for keen flashers, the Synapse Cache Solid State Drive (SSD).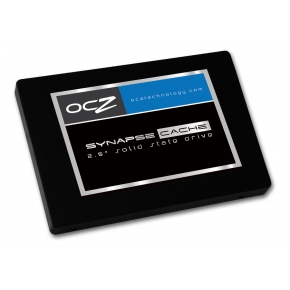 Synapse Cache SSD
The basic mix is the same, featuring a 64 or 128GB SSD with DataPlex caching software moving data off the host PC disk drive onto the SSD, and keeping cold data on the disk. As data in the SSD gets lower activity levels it gets replaced by hotter data on the disk. The SSD has a SandForce 2281 controller, a 6Gbit/s SATA interface, and a 2 million hour MTBF rating. It also has 128- and 256-bit AES encryption, SMART and TRIM capabilities, and supports Windows 7 hosts.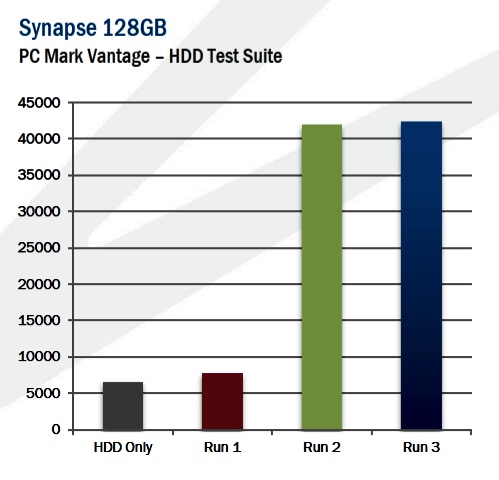 Synapse SSD performance chart
OCZ is at pains to demonstrate the performance improvements with several charts on the product sheet [PDF]. The chart above shows how the SSD progressively speeds up data access over a series of test runs.
The performance numbers for the SSD are surprising, with pronounced read/write asymmetry: write IOPS are very much higher than read IOPS, the opposite of what we expect.
The 128GB product does 19,000 random read IOPS (10,000 with 64GB version) but 80,000 random write IOPS (75,000 for 64GB product.) The 128GB product's sequential read performance is up to 550MB/sec, and sequential writes clocking up to 510MB/sec for the 128GB product and 490MB/sec for its 64GB brother.
OCZ provides incompressible data figures in the brochure and these are much lower, for example, random reads of 13,000 for the 64GB product and 24,000 for the 128GB one.
The idea is neat: slot the 2.5-inch SSD in its carrier into a 3.5-inch bay, load the software and off you go. We don't know what the endurance is like but SandForce controllers have a good rep. The product is available now but its price is a mystery. El Reg expects it to be in the $300 to $500 area. ®