PC games to outsell console software in 2014
But not if Sony, MS, Nintendo have any say in the matter...
Graphics card manufacturer Nvidia claims that, come 2014, more money will be spent on PC games than on games for consoles.
The assertion was made during a conference call with analysts yesterday, Techgage reports. Nvidia quoted data from market watcher DFC Intelligence.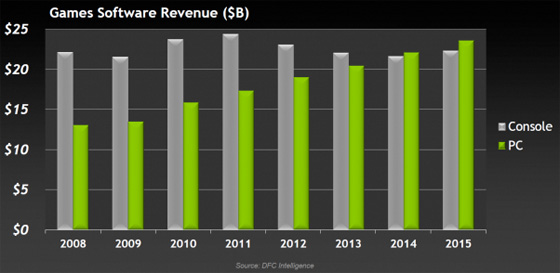 Source: Nvidia
But the figures - which only cover the US market - don't show PC gaming knocking console gaming for six. And the numbers don't just take in traditional titles but also incorporate subscriptions to games such as World of Warcraft and "free-to-play" models that charge for upgrades and add-ons.
More to the point, we wonder if the data takes into the account the appearance of next-gen Xboxes and PlayStations, widely expected in the 2013-4 timeframe.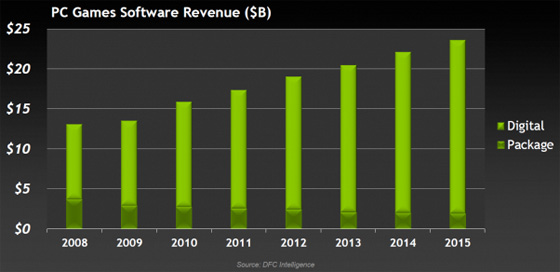 Source: Nvidia
Interestingly, even by 2015, packaged software will continue to sell, DFC reckons, despite being dwarfed by download sales.
With game developers forced into creating titles for the lowest common platform, followed by a PC port at a later date, many PC gamers are left with a shortage of titles that really utilise their high-spec machines. As we enter the sixth year without a console upgrade, the gap between the capabilities of PCs and consoles is growing. Nvidia reckons PC graphics cards now deliver 8-9 times the performance of an Xbox 360.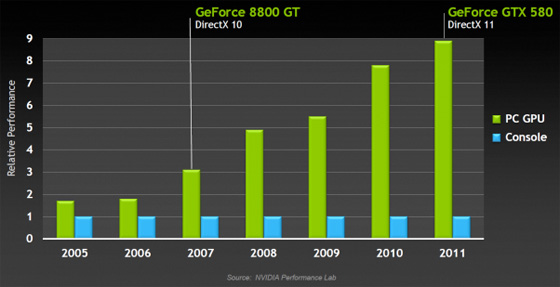 Source: Nvidia
Some dev teams are on the ball, though. This year we've seen a fair amount of titles appear geared toward the PC owner. DOTA 2, Diablo III and Star Wars: The Old Republic are all set for PC exclusivity, while others such as Deus Ex: Human Revolution, Battlefield 3 and Skyrim are graphically superior on a PC. ®