This article is more than 1 year old
NASA to trial laser-powered space broadband
Beaming probe data at 100Mbps
Impatient boffins will be able to download high resolution images and video from space probes in mere minutes if a newly approved NASA trial proves successful.
The space agency has rubber-stamped a trial of one of its projects - a laser-based communications system - which is theoretically capable of shifting up to 100Mb/s from spacecraft poking around the furthest corners of the solar system.
NASA's current space communications and data transfers are done on radio frequency (RF) systems. The RF systems' data transmission rates mean that it takes 90 minutes for a single high-resolution image to be beamed back to Earth from Mars. The new laser-based system would allow 100Mbps data rates instead of 6Mbps, allowing a image to be transmitted in five minutes.
"Just as the home internet user hit the wall with dial-up, NASA is approaching the limit of what its existing communications network can handle," said Dave Israel, who will lead the project.
The trial run of the new optical laser system, dubbed the Laser Communications Relay Demonstration (LCRD), will require a "payload" of telescopes, lasers, mirrors, detectors, a pointing-and-tracking system, control electronics, and two different types of modems to be bolted onto a commercial communications satellite. The specially equipped stations on the ground will test the transmission by encoding digital data and transmitting the information to the payload, which will then be relayed back to ground stations located in Southern California and Hawaii (as illustrated below).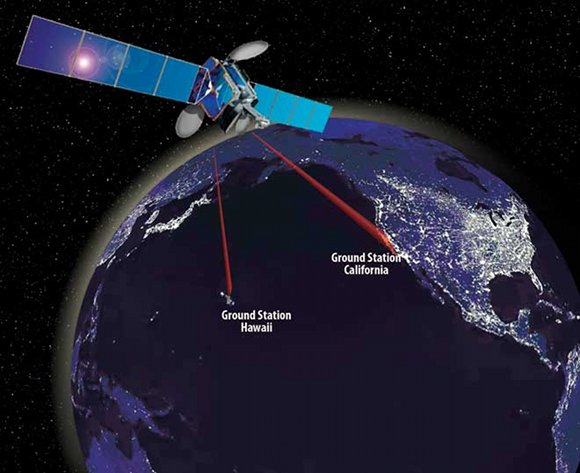 A conceptual illustration of the Laser Communications Relay Demonstration. Photo credit: NASA
One of the modems bundled into the the payload is ideal for communicating with deep space missions, while the other supports a much higher bit-rate and can communicate with Earth-orbiting craft, including the International Space Station.
During the demonstration – expected to run for two to three years – streams from the two modems will be sent back to Earth by laser to the Southern California and Hawaii ground stations – weather, atmospheric conditions and cloud cover permitting. Israel said if crappy weather stopped effective communication with one location, the network could hand over the responsibility to one of the other ground stations.
It's one of three projects that NASA decided to fund on 23 September. The other two are an atomic clock in deep space and a solar sail. ®