HeyTell voice messenger
The text message gets vocal
---
Android App of the Week Like the mutant offspring of the text message and the walkie-talkie, HeyTell is perfect for anyone who wants to relay vocal messages but who doesn't want the palaver of having an actual conversation.
Once you have selected a contact in the app, you simply hold the talk button down, speak and a voice message is sent to them. It's that simple. The receiver needs to have HeyTell installed, but you can invite first-time users by SMS or e-mail from within the app.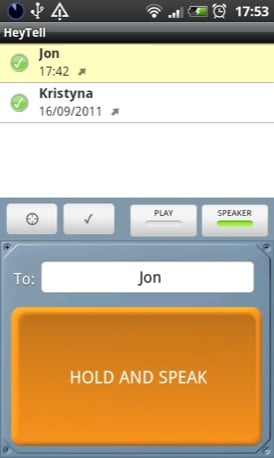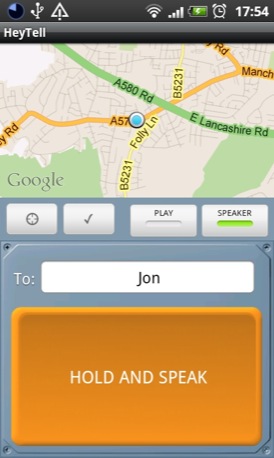 Push and hold to talk (left) and even share your location (right)
The system uses your phone's data connection, be it cellular or Wi-Fi, so there's no impact on your call plan. Messages have an eerie habit of turning up more of less instantly, making conversations almost real-time but without the usual mutual interruptions.
Messages can be up to 30 seconds in length but there's no on-screen timer so the more verbose user can often find him or herself cut off mid-sent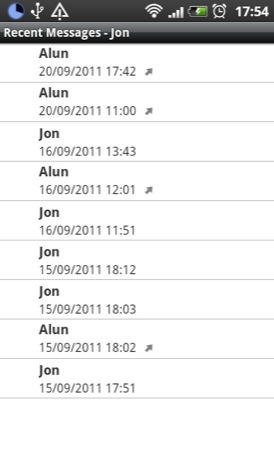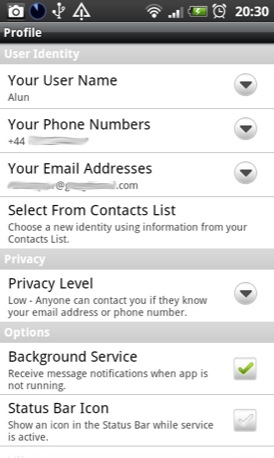 Check conversations message by message (left) and choose your options (right)
Press and hold a contact's name and you can see all the messages you have sent to or received from them and play them back - handy if you ever get into one of those "no darling, I said Seven O'clock" arguments with the other half.
The sound quality of messages - recorded at 16kHz - is uniformly of a very high standard though I have noticed that clips sent from iPhones seem to sound better than those sent from my Android, which rather annoys me.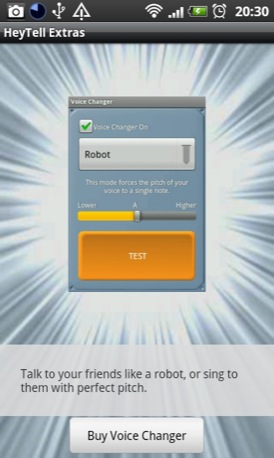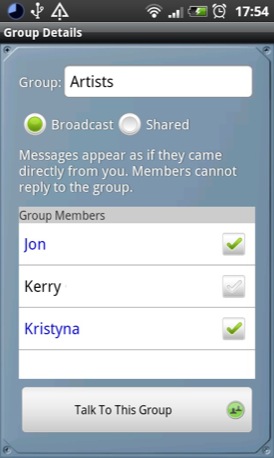 Voice Changer (left) like Groups (right) is an extra cost
How big is each message? The developer reckons about the same as an average e-mail but in the absence of an export option you'll have to take its word for that.
Touch the compass symbol and you can share your location along with your messages. There's also a privacy setting and an option to block contacts, both useful nods to cyber-bullying and other unpleasantries common in these technically advanced but socially uncouth times.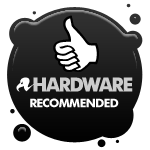 The basic app is free but if you cough up £1.82 you can create groups of up to 25 contacts and send them all a message at the same time. A happy side-effect of purchase is that the ads which rather besmirch the app disappear. ®
Size 2.2MB
App2SD No

We make our choice of the best Android smartphone and tablet downloads every Tuesday. It you think there's an app we should be considering, please let us know.
More Android App of the Week Winners

Elixir 2
Skifta
Hologram
Live
Paper
Camera
Cerberus

HeyTell voice messenger
Record and send voice messages instead of texts.
Price:
Free (Ads) £1.82 (Ad-free plus extra features) RRP