This article is more than 1 year old
Cray ships Mongolian cluster...
Seriously: It's an XE6m
Yak yak yak. Supercomputer maker Cray has landed an XE6m minicluster deal in Mongolia.
In Ulaanbaatar, to be specific, at Mongolia's National Agency of Meteorology and Environmental Monitoring, which does weather forecasting and climate modeling for the central Asian nation, where hominids have argued about the weather for about 800,000 years or so.
The Cray supercomputer will very likely not change any of this, but it will bring a level of precision to forecasting. Maybe.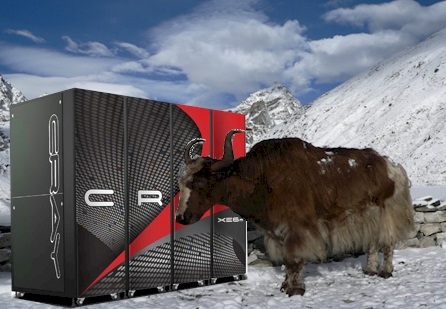 A veritable Mongolian cluster. F*ck.
Cray says that the Mongolian terrain has steep mountains and rolling plateaus and weather that has extreme variability both over the short term and over the course of years. The country relies heavily on raising livestock and farming and wants to do a better job forecasting weather for its people.
This is the first Cray system to be deployed in Mongolia, and when it is delivered later this year, it will be configured with the 16-core "Interlagos" Opteron 6200 processors that Advanced Micro Devices has started shipping to OEM customers but has yet to formally launch. ®