Google+ chases MySpace for second place
Jury still out on chocolate-flavoured network
---
Google+ unsurprisingly saw a spike in visitors after Mountain View opened the new social network to all-comers last week.
It had previously been in a so-called "field trial" since being launched by Google in June this year, but anyone wanting access to the service could do so on an invite-only basis.
According to Hitwise, online traffic to Google+ shot up 1,269 per cent last Wednesday, although that doesn't include access via mobile devices. That was the day after the company said world+dog could join the network, as long as they coughed up a "public" profile containing their real name.
The number of people in the US who actively signed into Google+ last week hit 15 million, while in the same period nearly 1.8 billion visitors hooked into Facebook.
Mark Zuckerberg declared at his firm's f8 conference last week that his ubiquitous social network was the first of its kind to notch up 500 million active users worldwide in just one day – so arguably Google+ remains small-fry in comparison.
"In just one week, Google+ went from ranking as 54th most visited site in our Social Networking and Forums category to 8th place," said Hitwise's research director Heather Dougherty in a blog post yesterday.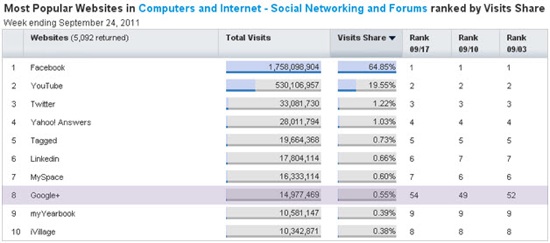 More significantly, perhaps, Google+ is yet to surpass not-quite-dead-on-its-arse-but-surely-any-day-now MySpace, which is still considered the second biggest social networking site in the world, even though it recently rejigged the brand to become an entertainment portal. It ranked just ahead of Google+ by pulling in more than 16 million visitors last week.
Based on those stats, it is presumably a matter of time before Google+ slides ahead of MySpace in Hitwise's ranking board. Or not, given the inevitability of sudden but not necessarily lasting interest in Google+ when the Chocolate Factory peeled off the "invite-only" seal.
It's too early to call Google+ a failure or success, but visitor figures over the coming months will undoubtedly reveal much more about whether fatigue or zeal have set in.
Ancestry.com founder Paul Allen, who considers himself to be the "unofficial statistician" of Mountain View's social network, reckoned that Google+ now had more than 50 million active users of the site. ®