This article is more than 1 year old
Tosh puts 1TB in the palm of your hand
End of STOR.E
Toshiba has slimmed down its handheld external drives by using a thinner two-platter spinner inside.
The STOR.E Art 4 is no more. Toshiba's arty-looking and thickish 2.5-inch external disk drive has gone. In its place are two Canvio drives; one black and basic, the other in multiple colours with included backup software.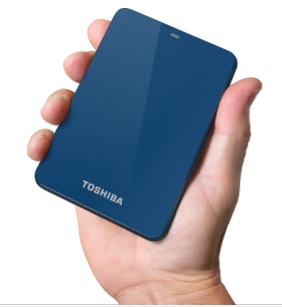 Canvio 3.0
The Canvio 3.0 drives come with USB 3.0 connectivity and 500GB, 750GB or 1TB capacities. They use, we believe, Tosh's new MQ01ABD drive – a two-platter 1TB unit. This post-dated the STOR.E Art 4, which used a less dense but thicker three or four-platter drive depending on its capacity, which goes up to 1TB.
The Canvio Basics 3.0 is the raw model, coming in a silky-finish black case. The non-basic Canvio unit comes with the same backup software as the STOR.E Art 4: that's NTI's BackupNow EZT, which backs up the host PC or notebook to the Canvio and can evaporate data off to the cloud. The drive also offers password protection, 256-bit AES encryption, drive space alert monitor to tell you when available capacity is running low, plus an internal shock sensor and ramp-load to protect the drive against unwanted shocks.
The Canvio comes in several colours: black, white, silver, red, green and blue.
The Canvio Basics 3.0 starts at $79.99 for 500GB while the Canvio 3.0 costs $89.99 for 500GB. ®