New numbers from market tracker Nielsen show that more than half of smartphone punters who acquired their handset in the past three months opted for Android.
The precise figure is 56 per cent, which compares well with Nielsen's Android's overall market share of 43 per cent.
It shows that Google's OS is gaining ever more ground and, if the trend continues, will increase its share of the market.
So who is it taking market share from? Not Apple, Nielsen's numbers suggest, which accounted for 28 per cent of smartphones acquired in the last three months - and 28 per cent of the smartphone market as a whole.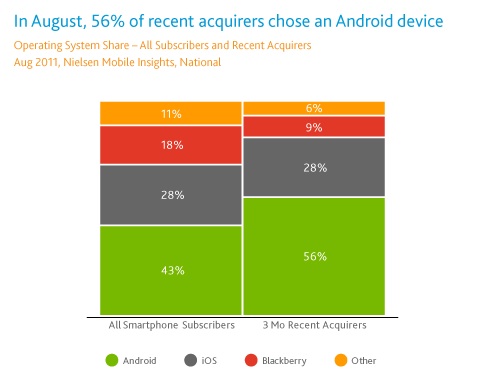 Source: Nielsen
Apple's three-month share will undoubtedly increase soon when it starts getting the iPhone 4S and/or iPhone 5 in people's hands. But there doesn't appear to be much else on the horizon to challenge Google.
If anyone needs to do so, it's RIM. Nielsen's numbers show that Android has been eating into every other smartphone platform's share, but RIM's in particular. According to Nielsen, BlackBerry accounts for 18 per cent of all smartphones out there, but only nine per cent of those handsets acquired in the past three months.
Windows Phone, Symbian and all the rest currently have, together, 11 per cent of the market, but only six per cent of quarterly sales.
Nielsen's numbers derive from interviews held in August with an unspecified number of handset buyers. Nielsen knows its stuff and isn't going to use a statistically insignificant sample. And, yes, these are US numbers, not global. ®
Similar topics