Spotify tethers future to Facebook
Social network membership mandatory for subscribers
---
Power follows Platforms
In the long-term, the deal confirms Facebook's dominance over content providers. Remember it has the luxury of dumping Spotify and anointing a new best friend. That patronage is powerful and can make or break them. You can bet that Rdio or Soundcloud or Deezer or Mog (also Facebook music partners) would make the same kind of deal.
But they all face a future in which they're squeezed, as a commodity supplier. They save Facebook an awful lot of work dealing with music licences and bearing the bandwidth costs. But at the end of the day, they're less of a platform and just another interchangeable component supplier.
And look what else is emerging, slowly. Facebook is becoming the web's de facto identity system - the Cabinet Office is mulling using Facebook IDs for authentication to Government services, as we exclusively reported back in June. Attaching credit cards to Facebook accounts will take longer.
Entire business sectors have only come to the realisation that digital distribution platforms matter very late, if at all.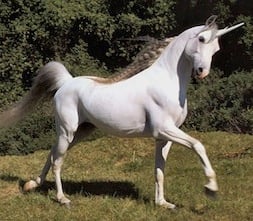 A unicorn gambols across the open web...
Perhaps because they've been smoking the "open web" bong pipe for so long. Remember that the web can be technically "open", while access to markets is tightly controlled. And doing the "open" thing with your angle brackets doesn't auto-magically open those doors for you.
With this deal, we see the platform company already "picking winners", and playing the upstream providers off against each other. Apple is already playing this game – because it can – and we must now add Facebook to the list.
Facebook is well on the way to being able to control the terms on which entire creative industries supply their goods. And these terms will always favour Facebook.
The games industry was smart enough to realise that platform control was important. It developed distribution platforms early, and now favours Steam (a vertically-integrated content company and channel), but not exclusively.
Hollywood's UltraViolet is a platform play whose debut we'll see quite soon. But the music industry has pointedly failed to develop its own. Hula is the exception, but that's it's just music videos.
There's little point chafing about conditions on the Zuckerberg Reservation if you've handed him the future through your own inaction. ®