MHEG, although an ETSI standard (ES 202 184), was largely defined by the capabilitis of the chips developed to support it in TVs and set-top boxes.
More recently, MHEG has been enhanced with the "Interaction Channel", which is used to deliver content like BBC iPlayer and applications from the internet. A small, core application is delivered through the digital TV stream in blocks using a data carousel. When all the blocks arrive, the application can be assembled and launched - and then load content through an internet connection.
HbbTV
At its most basic, HbbTV – short for Hybrid Broadcast Broadband TV – is similar to MHEG in that it too can have an application delivered to the television using a data carousel. That application can likewise load additional content from the internet. HbbTV is also an ETSI standard (TS 102 796).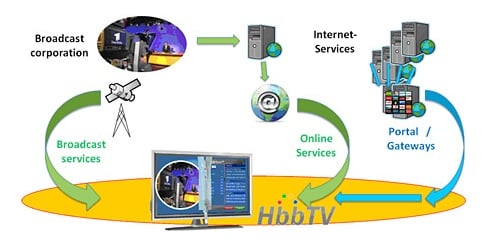 HbbTV doesn't depend on a particular broadcast link or on a particular IP link - it'll work with either
Source: HbbTV Consortium
But MHEG applications usually require a broadcast stream to launch them. You can't simply stick an MHEG application on the home page of an IPTV front end such as VieraConnect, for instance.
HbbTV applications, however, can be delivered from an application portal in the TV and delivered solely over the internet. So it can support content services from providers who don't have broadcast channels available to them.
HbbTV is based around technologies that will be more familiar to web developers than those of MHEG, including CE-HTML, a specification that includes XHTML, CSS, Ajax and Javascript. Crucially, that makes it accessible to considerably more coders than MHEG, with its more esoteric tech, does. In short, with HbbTV, its supporters claim, content providers can build and release apps that link to their material more quickly.
HbbTV's Javascript API has extensions to provide for TV functionality, such as handling channel changes. And it starts out with an explicit expectation that host TVs have a minimum display resolution of 1280 x 720.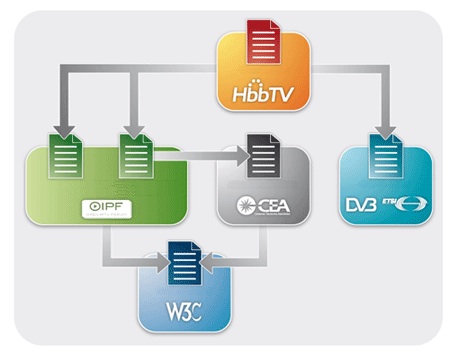 The HbbTV spec corrals standards and technologies, including CE-HTML, DVB and JavaScript, from many existing organisations, such as the Open IPTV Forum and the W3C
Source: HbbTV Consortium
The HbbTV spec also contains a contribution from the Open IPTV Forum, which has defined a set of audio and video formats that should be supported over broadband. Essentially, HbbTV relies on the AVC (H.264) codec for both standard and high-definition video, with either E-AC3 or HE-AAC for audio. Audio streaming services use either MP3 or HE-AAC.