Autonomy boss Mike Lynch has continued to deny trying to flog his company to Oracle before the recent controversial deal with HP - despite the database giant's blunt claims that he is telling "whoppers".
Lynch was responding to Oracle CEO Larry Ellison's previous remarks to the effect that Autonomy was shopped to Oracle before it was acquired by HP for $10.3bn - a deal signed during Leo Apotheker's reign as HP CEO and an amount many observers think is too much.
Referring to claims that an investment banker suggested Autonomy as a buyout target for Oracle, Lynch commented this week: "If some bank happened to come with us on a list, that is nothing to do with us."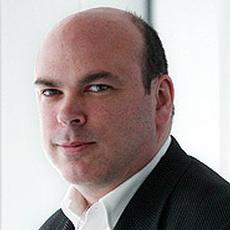 Autonomy CEO Mike Lynch
Oracle says that Lynch met Oracle's head of mergers and acquisitions Douglas Kehring and Oracle president Mark Hurd at 11am on (aptly) April Fools' Day this year. Lynch was accompanied by uber-investment and company sale banker Frank Quattrone of Qatalyst Partners, who helped sell 3PAR to HP.
In a statement, Oracle added: "After listening to Mr Lynch's PowerPoint slide sales pitch to sell Autonomy to Oracle, Mr Kehring and Mr Hurd told Mr Lynch that with a current market value of $6bn, Autonomy was already extremely over-priced."
Lynch responded yesterday to this, and said yes, he had met the two men, but it was not an Autonomy shopping session:
On one of my trips to SF (April 2011), Frank Quattrone, whom I have known for a long time, offered to introduce me to Mark Hurd. Oracle was a customer and I have never met him, so it was a good opportunity. Frank does this from time to time on my visits, he has introduced me to many people... NOTE: Frank was not engaged by Autonomy and there was no process running. The company was not for sale. I recall meeting with Mark and someone else I believe called Doug. At the start of the meeting they joked that Frank was there to sell them something. Frank and I made it clear that was not the case. We then met and had a lively discussion about database technologies. The meeting lasted approximately 30 mins. Frank is happy to confirm this.
Oracle yesterday bluntly described Lynch's version of events as "another whopper" and added: "Either Mr. Lynch has a very poor memory or he's lying".
Oracle still has two slide decks from the meeting, which you can download as PDFs and enjoy in all their glorious detail.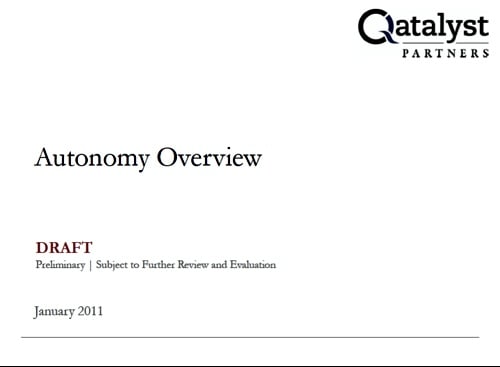 First slide in Qatalyst Autonomy slide deck
The disclaimer statement on the last slide of the first deck, prepared by Qatalyst, says:
These materials have been prepared by Qatalyst Partners LP (including any affiliates "Qatalyst") for the Qatalyst client or potential client to whom such materials are directly addressed and delivered (the "Company") in connection with an actual or potential mandate or engagement and may not be used or relied upon for any purpose other than as specifically contemplated by a written agreement with Qatalyst. These materials are based on information provided by or on behalf of the Company and/or other potential transaction participants.
An Autonomy spokesperson responded to the latest Oracle claims, saying: "In essence that's not true."
Did Mike Lynch tell HP that Autonomy had not been offering itself to Oracle? Is that the reason why he is denying it so firmly? He and his company are pawns in the ongoing war of words between Oracle and HP, and there is a risk that the Autonomy acquisition by HP could unravel. ®
Similar topics