The long-running legal imbroglio between Apple and hackintosh-maker Psystar has – almost – been brought to an end: a federal appeals court has affirmed Apple's 2009 injunction of death that prevents Psystar from selling Mac products from now until eternity.
This case has traveled a long and bumpy road, one filled with switchbacks and potholes. It's a relief to see it brought to a close with Wednesday's decision – although some final legal niceties remain to be sorted out before Apple's legal team can call it quits.
Psystar began selling their Mac OS X–capable Open Computer in April 2008, despite the fact that Apple's end-user licensing agreement for Mac OS X clearly forbade running it on non-Apple hardware. "You agree not to install, use or run the Apple Software on any non-Apple-labeled computer," the EULA read, "or to enable others to do so."
That may have seemed to be a rather clear commandment to most observers, but it didn't deter Psystar. With their Open Computer, the company provided an emulator for the Extensible Firmware Interface (EFI) technology used by Apple, thus allowing the Psystar box to boot Apple's operating system – a fact that ticked off not only Apple, but also the author of the emulator, which was known as EFI V8.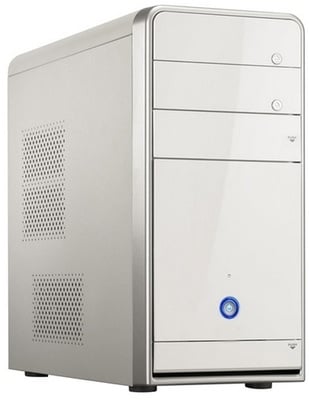 Psystar's Open Computer of 2008
Surprising no one, Apple sued Psystar. Surprising many, Psystar quickly countersued, asserting that Apple's EULA violated the Sherman and Clayton antitrust acts.
L'affaire des clones was off and running. Apple asked the court to dismiss Psystar's accusation that Apple was a monopoly, saying that it competed with plenty of PC manufacturers. Perhaps seeing an impending court-clogging legal morass on the horizon, the court ordered out-of-court settlement talks.
After this Alternative Dispute Resolution attempt failed, the issue went back to court – and in November 2008, a California judge agreed with Apple that Psystar's case should be thrown out of court. The judge did, however, gave Psystar a one-month window to come up with a better argument.
Apparently seizing the opportunity to kick Psystar when it was down, two weeks after Psystar's case being thrown out of court, Apple upgraded its original lawsuit to add the accusation that the hackintosher was violating the Digital Millennium Copyright Act by circumventing Cupertino's copyright-protection measures.
In February 2009, Psystar won its first victory when a judge ruled that the company could pursue a suit against Apple's allegedly overreaching copyright claims, although its monopoly complaints remained out of bounds.
But that victory was Pyrrhic – six weeks later, Psystar filed for bankruptcy. Apple again kicked the hackintosher when it was down, winning the right to continue its copyright-infringement lawsuit against the barely breathing Psystar.
Undeterred, the very next week Psystar refused to oblige Apple by simply disappearing from the face of the earth, announcing that it was coming out of bankruptcy with a new Mac OS X–compatible computer it dubbed the Open(7). "When life gives you apples, make applesauce," their annoucement bravely aphorized.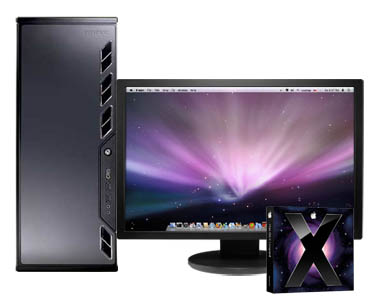 Psystar's Open(7) offering of 2009: $1,499.99 - display not included
Pystar then changed its legal representation, said it was preparing for its trial against Apple wih "guns blazin'", and emerged from bankruptcy in August 2009.
Apple then charged Psystar with destroying documents needed for trial; Psystar denied the accusation. Psystar won another round when, in September 2009, a judge denied to dismiss what was left of Psystar's original countersuit.
But the axe fell the next month, when a judge not only ruled in Apple's favor on all counts of its suit against Psystar, but awarded Apple damages to the tune of $2.7m. Apple also asked the court to permanently enjoin Psystar from selling cloned Mac software or hardware, an injunction it won in December.
Psystar then appeared to have thrown in the towel, with its lawyer Eugene Action saying "We respect the robe." After a few wriggles – attempting to sell that EFI loader, then hawking T-shirts and Linux boxes – the T-shirts read "I sued Psystar ... and all I got was a lousy injunction" – most observers thought the battle was over.
But nooooo...
Appeals of Apple's 2009 victory dragged on. And on. And on. Until this Wednesday, when Judge Mary Schroeder of the US District Court of Appeals of the Ninth Circuit in San Francisco issued what – God only knows, but The Reg devoutly hopes – are the final words about this case: "The district court's grant of summary judgement in favor of Apple and its entry of a permanent injunction against Psystar's infringement of Mac OS X are affirmed."
But even in defeat, Psystar won a tiny victory. Apple – in its eternal quest to protect any and all information about itself – had asked Schroeder to keep documents about the summary judgement case sealed. Schroeder refused, saying that to do so "without explanation" was out of bounds.
So there still remains the small matter of whether Apple will be able to keep select court documents sealed, which may cause a smile or two among Psystar supporters.
Of less comfort will be the last five words in Schoeder's ruling: "Costs are awarded to Apple." ®