This article is more than 1 year old
RIM defends PlayBook as more execs bail
Reports of tablet's demise 'pure fiction'
Research in Motion is fighting back against rumors that it's abandoning its PlayBook tablet effort, just as word arrives that two more execs have jumped ship from the Canadian Titanic-emulator.
"Rumors suggesting that the BlackBerry PlayBook is being discontinued are pure fiction," a RIM spokeswoman emailed Reuters. "RIM remains highly committed to the tablet market and the future of QNX in its platform."
Perhaps. But cutting the fondleslab's price in the US down to $299 – a $100 coupon and a $100 rebate – doesn't speak of a tremendous amount of faith, nor do reports of obese inventories bode well for the PlayBook's contribution to RIM's bottom line.
The price cut may have been in reaction to Amazon's $199 Kindle Fire (raise your hand if you think that's a dumb name – thanks), or to the way in which HP's erstwhile TouchPad flew off the shelves when its price dropped to $99. We're betting both.
Adding to the woes faced by RIM's gotta-be-scrambling public relations department is the news that two more executives have decided that the grass is greener, well, anywhere other than a company that some employees have been quoted as saying feels like "Soviet-era government workplaces". And worse.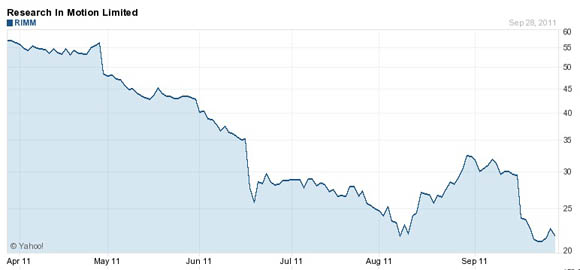 RIM's stock performance during the past six months (source: Yahoo! Finance)
In a statement released on Thursday, RIM announced that its senior vice president for global alliances and developer relations Tyler Lessard was leaving to – take a wild guess; you're right – "pursue other interests".
In addition, a source "with direct knowledge of the situation" told Reuters that RIM's senior vice president for platform marketing and alliances Jeff McDowell left the company two months ago.
Lessard and McDowell are only the latest to bail from RIM. Director of developer relations Mike Kirkup resigned in August, marketing headman Keith Pardy left in March, and COO Don Morrison resigned in July, though his departure was after a medical leave.
HP's TouchPad became a must-have gadget when its price sank to $99. The Reg wonders how far the PlayBook's price point may sink, if it too becomes a collector's item. ®