NSFW Holly Madison, the US "reality TV star and model", has insured her D-cup jubs for $1m, lest they suffer a mishap during her Las Vegas extravaganza Peepshow.
According to Reuters, the highly talented 31-year-old explained: "If anything happened to my boobs, I'd be out for a few months and I'd probably be out a million dollars. I thought I'd cover my assets."
Lloyd's of London will be taking the hit if Madison's Bulgarian airbags come to grief while she struts her stuff as Bo Peep. The character is described as "a timid girl who is guided by the Peep Diva in her transformation into a confident, sensual woman" in the course of the "ultra-hot show".
Madison's transformation into a confident, sensual woman actually began back in 2001, when she had a boob job to augment her A-cup chesticles. Since then, she's rubbed, er, shoulders with Hugh Hefner in The Girls Next Door, made a few film appearances and was last seen cavorting on Dancing With The Stars.
She's also no stranger to getting her kit off, and did her bit for dumb animals when she shed her clothing for PETA: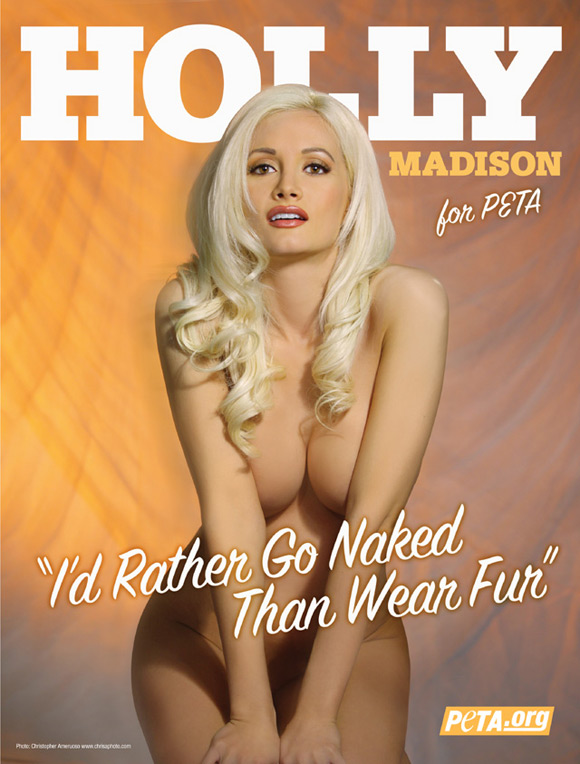 Quite what percentage of Madison's $1m funbags will be thrust into Vegas punters' faces we can't say, but since she describes Peepshow as "a classy burlesque show", it doesn't bode well for an enhanced eyeful. ®