Apotheker severance outrage: $2.4m 'bonus'
HP savior CEO Whitman? $1 (and a whole lotta stock)
---
The rich are different from the rest of us not just because they have more money, but also because they get multimillion-dollar bonuses even when they run a company onto the rocks, as did former HP CEO Léo Apotheker.
Apotheker was fired from his positions as president and CEO of HP on September 22. The same day, HP announced that newbie HP board member and former eBay CEO and former California gubernatorial candidate Meg Whitman would replace him.
Apotheker, who was not asked to stay on as co-CEO at software giant SAP in February 2010 when his contract came up for renewal, clearly wanted and needed a big-time job like the one he snagged at HP, if for no other reason than to vindicate himself. But it was never clear why HP hired Apotheker, except that it needed a CEO and a strategy to help give customers and shareholders confidence.
We think it's safe to say that Apotheker did not do that, not with the company missing its numbers three quarters in a row, and with the HP share price doing this: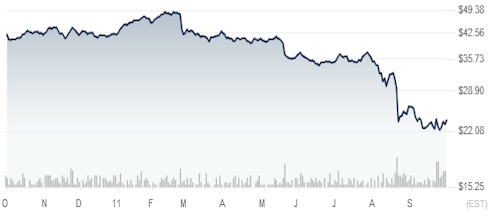 HP's share price during Léo Apotheker's tenure (source: The Wall Street Journal
When Apotheker came in, HP had a market capitalization of $77bn, and through the spring, when he hadn't said much yet and was globetrotting talking to HP customers and employees, the company's value on Wall Street rose to $92.5bn.
And then a bunch of bad things happened, including Oracle pulling the plug on Itanium processors for future generations of its software, and HP's missing its numbers because of issues in the Unix server business and the PC market.
The company's announced acquisition of Autonomy for $10.3bn and possibility of selling off its PC business hurt rather than helped the stock, as did its flip-flopping on webOS – just to name a few problems under Apotheker's rein. And the market cap of HP was hammered down to $45bn.
Small wonder that Léo was shown the door and Meg was given the hot seat.
In an 8K filing with the US Securities and Exchange Commission, HP said that Apotheker was terminated on September 22, but Whitman did not sign her employment contract until September 27 and Apotheker did not sign his separation agreement until September 28. Whatever negotiations were held between September 22 and 28, Apotheker clearly did alright.
So what exactly did Apotheker bargain for and receive? Well, it needed to be quite a lot for his sake and that of his family, because he will have a very hard time rising to the CEO position at a big IT firm ever again. And it was.
The package includes a severance payment of $7.2m, payable in chunks over the next 18 months, plus the accelerated vesting of 156,000 HP shares worth $3.6m. Apotheker also got a $2.4m annual bonus – although the term "bonus" in his case clearly can't be performance-based – and has another 424,000 in restricted stock shares that he might be able to cash in if HP does better both financially and on Wall Street. HP will also kick in $300,000 for any loss that Apotheker might incur on the sale of his house in California, which he bought last year after joining HP.
For her part, Whitman agreed to a $1 per year salary for handling the president and CEO posts, but has an option to buy 1.9 million HP shares of common stock. She gets 100,000 shares over the next three years if she stays employed by HP. There's another 800,000 shares that vest if she is there for a year, or if the stock price hits or exceeds the inside excise price for 20 consecutive trading days.
Although we have no idea what that price is, it's presumably north of $35 per share or there is little motivation to do anything other than keep HP from bleeding more. At $35, that will just get HP's market cap back to where it was before Apotheker came in.
Whitman then gets another 800,000 shares if she makes it through year two, or if the stock price holds at 140 per cent of the value of the vesting price of those share grants for 20 days, whichever comes first. Assuming the HP stock price is around $35 – why not? – those options would be worth around $63m in the first two years. Whitman also gets that $2.4m annual bonus in fiscal 2012, but only if HP meets financial targets that the board has set.
While HP's board of directors was throwing compensation packages around, they also tossed a million shares to the board's executive chairman Ray Lane; those shares will vest in a pattern similar to those of Whitman.
There's an old saying, variously attributed to Mae West, Sophie Tucker, W.C. Fields, and others that goes: "I've been rich and I've been poor. Believe me, rich is better."
Indeed. ®