This article is more than 1 year old
Maguro+ zombie resurrected as Oracle beast
Database server gets freaky fans and flaps
The genesis of Oracle's mini-Exadata – its new Database Appliance – was quite involved.
The appliance is a pair of Sun Fire X4270 M2, 2-socket Xeon X5675 server nodes, which contain the DRAM, flash and disk drive storage, clustered across 1Gbit/s Ethernet instead of grown-up Exadata's QDR InfiniBand cluster connect.
These servers have six cores, 96GB of DRAM, a pair of 73GB SSDs for database redo log storage, and ten 600GB SAS disk drives to hold the Oracle database.
A person close to its development told El Reg that this system probably started out as an upgrade to Oracle Sun's 7310 Storage Appliance, a 192TB box, running on two six-core Xeon CPUs, with a two-node cluster option. The server component was a Sun Fire X4140, and he characterises the 7310 as two of these plugged into a 4U JBOD.
It was replaced by a 7320, which had the same 192TB of capacity, a processor upgrade to Westmere engines, and up to 4TB of read flash instead of the 7310's 600GB. This was quite a modest upgrade.
Maguro Plus
The proposed upgrade, to be developed in VP Ali Alasti's hardware engineering group, was codenamed Maguro+, a Japanese name for a type of tuna – this was the Sun Fishworks group – and the upgraded box was going to be called the 7320. The Maguro+ box was called a T4 as well, ironic now, in reference to it being the fourth incarnation of Thumper, Sun's original integrated storage and server filer, the X4500. It involved the three separate 7310 boxes, the two servers and JBOD, being integrated into a single 4U enclosure.
We hear that Maguro+ would have had 24 3.5-inch drive bays, with 20 1TB or 2TB hard drives and four STEC SSDSs acting as ZFS accelerators. At the back of the enclosure there would have been two removable blade-like servers. While the 7310 was limited to just three PCIe slots, one of which was dedicated to a SAS host bus adapter (HBA), and another to cluster inter-connection, each Maguro+ server would have a built-in cluster card that connected to an internal Ethernet and serial connection on the mid-plane. It would also have an internal SAS HBA with three additional slots for external connectivity.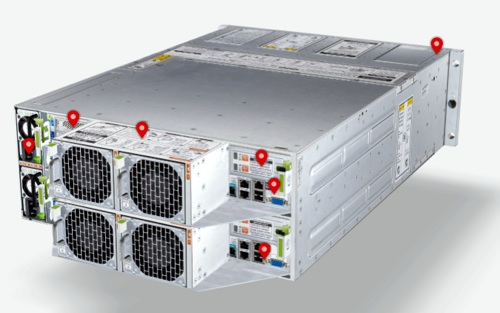 Rear view of Oracle Database Appliance. Spot the projecting fans and flaps.
Maguro+ was delayed. It was promised to be ready for Exalogic and wasn't. The plan to use it as a 7310 replacement was scrapped and the 7320 became a more reduced upgrade on the 7310. The Exalogic design had to be modified because 4U had been allocated to the Maguro+ technology and this became 6U for the 7320. A planned 2U server had to be dropped as a result.
Now, we understand, the Maguro+/T4 hardware has been resurrected as the Oracle Database Appliance. We're told that it can be identified by weird external fans, a very deep chassis, and a flap covering the dual, rear-facing disks on each of the two server modules. Check out the picture above, grabbed from a 3D-like display on Oracle's website.
On the right-hand side of the picture each server has two mirrored 500GB SATA disk drives to function as redundant bootable drives. You can see a triangular flap running from their base to the end of the fan assembly, presumably to stabilise that.
Oracle describes the appliance thus:
The Oracle Database Appliance hardware is a single 4U rack-mountable chassis containing two Oracle Linux server nodes, each with two 6-core Intel Xeon processors X5675 and 96 GB of memory. The two server nodes are connected via an internal redundant gigabit Ethernet (GbE) interconnect for cluster communication, and each provides both 1 GbE and 10 GbE external networking connectivity. The appliance contains 12 TB of raw storage that's triple-mirrored, offering 4 TB of resilient usable database storage. There are also four 73 GB solid-state disks for database redo logs to boost performance. The appliance is designed with mission-critical requirements in mind, with hot-swappable and redundant components.
This appliance could just be a stopgap though. We also hear Oracle is going to bring out an all-flash memory array, one with a PCIe connection to a server. Its codename is Jurojin, which is the name of a Japanese Taoist god of wisdom and longevity, one of the seven gods of fortune. Now you know. ®