OpenWorld San Francisco is bracing itself for an influx of around 50,000 technologists as the Oracle OpenWorld and JavaOne conferences kick off next week, and the city's smut merchants – or gentlemen's clubs as they prefer to be known – are making a play for attendees' attention.
The week of the two conferences is apparent to most of the city, geek or non-geek, since the show not only takes over the sprawling Moscone conference center, but also blocks the crowded commute route of Howard Street with pavilions, and clogs many surrounding hotels. Ellison & Co. also annex one of the prettiest public parks in the downtown area, Yerba Buena Gardens, meaning that local residents lose their sunshine lunch breaks for six days.
And now ten of the city's parlors of negotiable affection have banded together to offer OpenWorld attendees free entry to their establishments, as long as they are wearing their Oracle badges. The group has taken full-page advertisements in the local free press to offer attendees alternative ways to spend their sojourn in the cool, grey city of love.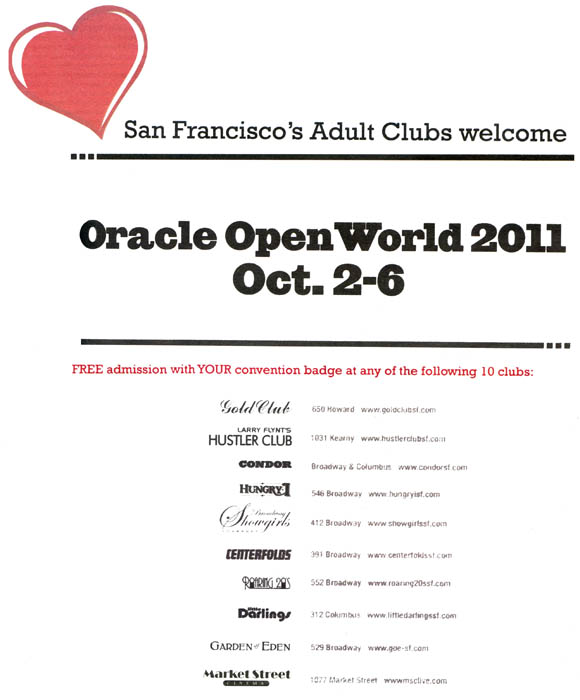 Ten sex establishments have joined forces to squeeze money from OpenWorld visitors ...
Another establishment, the more risqué New Century Theater, is offering attendees a $10 discount on its entrance fee. Since this establishment doesn't serve alcohol, the performers may work nude, and El Reg understands that a trip to this establishment, while providing a truly American experience, does not include a merkin experience.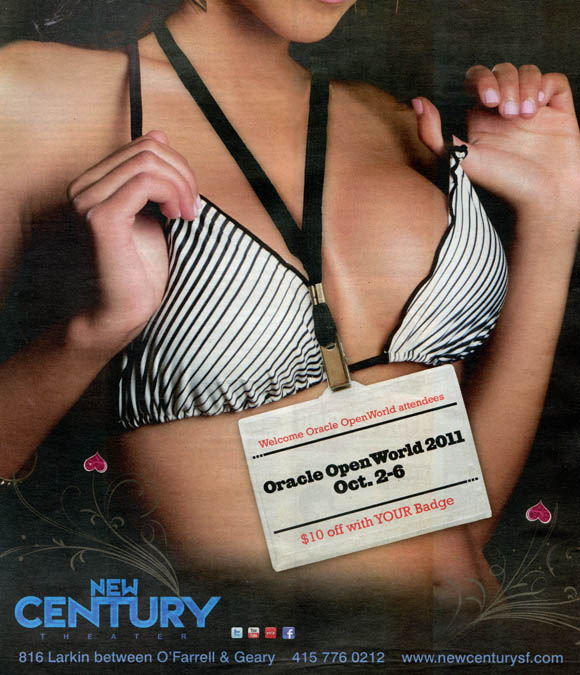 ... and this less-generous establishment is doing its squeezing on its own
When Larry Ellison gives his keynote address on Sunday night, the conference hall is expected to be packed. But faced with the choice of sitting through the "Oracle's Metals, Mining, and Forestry Value Chain Industry Strategy" session or sipping a drink while watching someone get undressed – what choice will the overwhelmingly male attendees make?
For those looking to justify their lechery, there are economies to be made by using the special offer. By Thursday most attendees will be tiring of the plastic "food" traditionally served at the show and might want to head one block north to what appears from the sidewalk to be the less than sparklingly hygienic Gold Club, which offers a free buffet lunch. El Reg, however, advises that attendees take care what they might find in their creamy fettucini.
Perhaps in response to the concupiscent competition, Oracle is making sure that attendees aren't going to get bored during the evenings. The company usually books big-name bands for the show parties, and this year is no exception: Sting, Tom Petty and the Heartbreakers, the (English) Beat, and Berlin have all signed up to perform in front of the largely middle-aged audience. The conference badge will also get you a range of discounts at more wholesome venues, such as the excellent California Academy of Sciences and a variety of restaurants.
Nevertheless, San Francisco's dens of vice know their stuff, and are clearly expecting a bumper crop of visitors to justify the outlay they are making. El Reg reminds visitors to remember that that is someone's daughter, sister, and/or mother cavorting up there on stage, so show some respect for someone who may regard her job as even more unpleasant than database debugging. ®
Similar topics