This article is more than 1 year old
Ellison: 'There'll be nothing left of IBM once I'm done'
Promises a terrific licking for 'Mister Blue'
Oracle has pulled the rug out from under Hewlett-Packard's Intel's Itanium processor by yanking support of its database, middleware, and application software on future "Poulson" and "Kittson" Itaniums. It looks as though Larry Ellison wants to take on IBM in microprocessors for data center systems, man-to-man, head-to-head.
"I remember when we first bought Sun, a lot of people said we were going to get out of the hardware business," Oracle's co-founder and CEO said opening up his keynote at the OpenWorld customer and partner and conference on Sunday night, when he also announced the new Exalytics in-memory BI appliance.
"I guess we didn't get that memo," Ellison quipped, pointing out that Apple is doing a "pretty good job" designing its own hardware and software and making it work well with its own services. And that Oracle is not only committed to making its server, storage, and networking business work, but having taken Sun's hardware as a means of getting its hands on Solaris and Java, Oracle is actually enthusiastic about creating its own stack.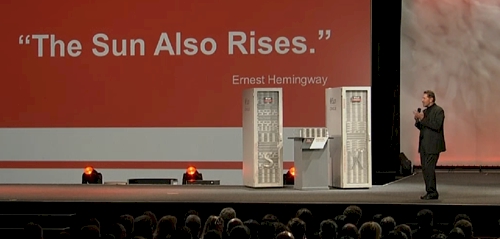 IBM: In case you didn't get the memo...
In the past few weeks, Ellison has been lobbing his barbs at IBM, which is the revenue-share leader in the systems business thanks to its mainframe and Power Systems, and the expensive systems software and middleware on mainframes. HP might go toe-to-toe with IBM in raw server revenues, but its software sales are a tiny slice of what IBM and now Oracle do each quarter and each year. If Oracle wants to make money – meaning profits, not just revenues – then IBM, not HP, is the company Oracle needs to steal some systems business from.
In his keynote on Sunday, Ellison conceded that for the past decade, IBM's Power line of processors set the standard for integer performance, but with the Sparc T4 processor, announced last week, Oracle has closed the gap considerably.
So the Power chips have been faster, Ellison said, "but with T4, for the first time we can say, faster for what?"
Thanks to the new S3 core in the Sparc T4 chips, which have out-of-order execution, larger caches, faster clock speeds, and dynamic threading, the 3GHz Sparc T4s have five times the integer performance of the prior generation of 1.65GHz Sparc T3s, while having slightly more online transaction-processing performance.
Oracle is touting the relative performance of its Sparc T4 systems running Java applications, and particularly the SPECjEnterprise Java benchmark test. Here's a chart that John Fowler, executive vice president of hardware engineering at Oracle, showed ahead of Ellison's talk on Sunday when he was setting the stage for the week's "engineered systems" announcements: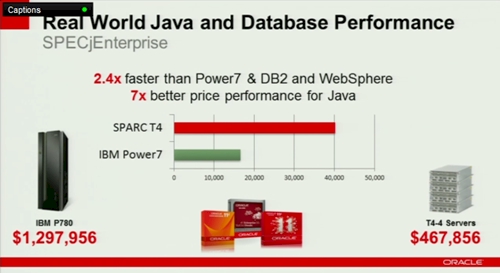 Oracle versus IBM in the Java Wars
The graph shows the performance of two Sparc T4-4 machines running Solaris 10 Update 10, the 11g R2 database with Real Application Clusters spreading the database work across those two nodes linked to four Sparc T4-4 nodes running Oracle's WebLogic 10.3.5 middleware and its HotSpot 1.6 Java virtual machine.
This system of six Sparc T4-4 servers, which was tested in August, could process 40,104 operations per second. The Java-designated machines had 16 eight-core processors running at 3GHz for a total of 1,024 threads to chew on the Java workloads, and half that number again for the 11g database. Call it 1,536 threads running at 3GHz.
IBM tested a Power 780 server – an eight-socket server using its eight-core Power7 processors running at 3.86GHz – back in February on the SPECjEnterprise test. This Power 780 was the WebSphere server behind the SPECjEnterprise test, and IBM chose a Power 750 with four Power7 processors (for a total of 32 cores at 3.55GHz) to run its DB2 V9.7 database. Both machines ran AIX 7.1 as their operating system. And these two machines only drove 16,646 operations per second. The IBM Power7 processors used in the test have four threads per core, so IBM had 256 threads running at 3.86GHz for Java and 128 threads running at 3.55GHz.
The Oracle cluster does more work than the IBM setup, but if you look at raw clock speed or threads as a kind of measure of "raw oomph", the Sparc T4 machines are arguably more efficient at running Java. Just like Ellison claims. IBM would show better bang for the buck using a network of Power 750s, but it would need a lot more of them.
Oracle has, of course, been very careful to keep the Sparc T4 processors away from the SPECint2006 integer benchmarks.
"We're faster for Java, Mister Blue," Ellison said, referring to the benchmark test shown above. "You're faster for integer arithmetic. If you think companies do a lot of arithmetic, cool. We think they access a lot of data and run a lot of Java."
He was a point.
IBM has to design its Power systems to do a lot of different things well to be able to position them in the data center and in supercomputer clusters and to run lots of different workloads. All Oracle really needs to worry about is running its own software – just like IBM only has to worry about with its System z mainframes and the slice of its Power Systems business that runs the IBM i (formerly OS/400) proprietary operating system or the combination of IBM's AIX, WebSphere middleware, and DB2 database.
According to Ellison, 70 per cent of its installed base of customers are running on Solaris or Linux, so it cannot utterly ignore HP-UX, AIX, Windows, and non-Oracle Linux. But by making its own platforms better it can keep its existing customers from defecting, and then eventually – because of the tighter integration between hardware and software (or simply not tuning code to work on other hardware well, if you are a cynic like I am) – sell competitively against those other platforms.
Ellison, who was very pleased with the Sparc T4 chip, said that the Sparc T5 chip would come out in a year and would be "twice as fast," putting even more pressure on IBM. (You can see the revised Sparc roadmap that includes the accelerated delivery of the Sparc T5 here.)
You have to be careful about the word "fast" in that sentence. What Oracle has promised with the T5 is a chip that spans eight sockets in a single system image (instead of the four in the top-end Sparc T4-4 server), that has a little more single-thread performance, and around 2.5X the throughput. That probably means a 16-core chip using an S3 core.
"We're better than IBM in Java, and we're going to beat them in integer arithmetic, and then there will be nothing left," proclaimed Ellison. He then backed off a bit, saying that if Oracle doesn't beat IBM's future Power chips on integer math, the company's chip designers would "be pretty close." ®