Geek Treat of the Week Yes, it's expensive and totally pointless, but the Black Diamond "ambience dock" is strangely compelling. It's fascinating to watch – a bit like those Mathmos lava lamps that now seem to have acquired a rather ironic retro chic.
Designed specifically for the iPhone – I'm looking forward to the iPad version, due any day now – the Black Diamond is essentially a basic USB charging dock wrapped up inside a globe of shiny, semi-translucent black plastic.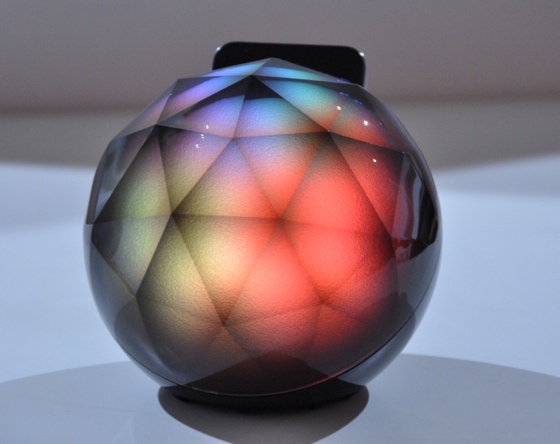 It's like a globe that like glows
There's an accompanying Black Diamond app that acts like one of those old iTunes visualisers and displays a variety of low-key pyschedelic colours on the iPhone screen to accompany your music.
There are lighting effects such as "plasma", "rainbow" and "flame", and the app includes a playlist option so that you can choose some suitably atmospheric music to accompany the visuals. Then you just insert the iPhone into the dock and watch as the pretty colours are refracted through the globe in a soothingly soporific manner.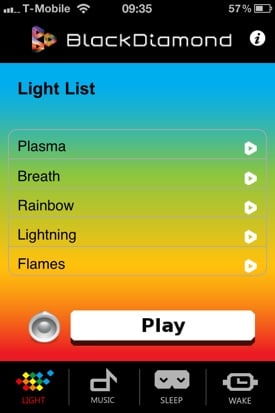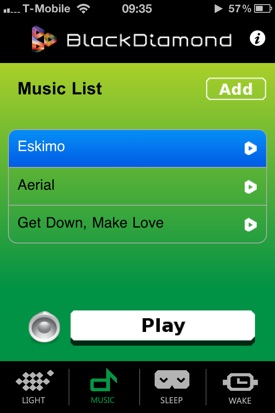 Select your lighting effect (left) and the right music to complete the mood (right)
It's hard to think of a better accompaniment to, say, Dark Side of the Moon. Though it will also appeal to Trekkies for its similarity to those coloured, glowing mind-in-a-globe things the original crew were always encountering.
That's pretty much it, really, although the app does have an alarm clock feature built into it too, along with a "sunrise" option that prepares you to wake up by gradually starting to glow for about 30 minutes before the actual alarm goes off.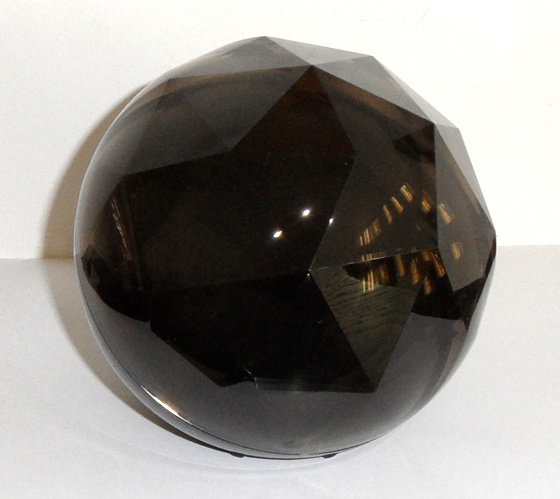 Not so outer-spacey with the iPhone out
There's also a sleep-timer that plays music when you go to bed at night and automatically turns itself off after a specified interval.
The light display isn't particularly spectacular, as the Black Diamond doesn't have an internal light source, nor any speakers, built into it – a bit disappointing, at this price. However, it's still quite pleasant to watch in a darkened room – like digital candle-light gently flickering in the dark as you drift off to sleep, maaaan. ®
Thanks to Red5 for the review sample
Geek Treat of the Week is published every Monday. Got a handy gadget in mind you'd like us to consider? Please let us know
More Geek Treats

Byte-dock
M-Audio
Keystation
Mini 32
Logitech
Touch Lapdesk N600
Osun
MushRoom
Green Zero
Audio Pro WF100
wireless streamer

ThumbsUp Black Diamond glow-globe iPhone dock
A guilty pleasure of a geek treat: a psychedlic light-show dock that just looks pretty
Similar topics