Review At first glance, AMD's 'Llano' CPU and Intel's 'Sandy Bridge' second-generation Core i platform look like blood brothers. They combine the CPU, a GPU and a memory controller all on a single 32nm die.
So how do these laptop chips stand up against each other?
To find out, we asked HP to send us two 15.6in Pavilion dv6 laptops, one with AMD's mobile chippery on board, the other running Intel's alternative. In all other respects - wireless, screen resolution, optical drive and so on - they are identical. Ram, however, was different: 4GB on the AMD-based Pavilion, 6GB on the Intel laptop.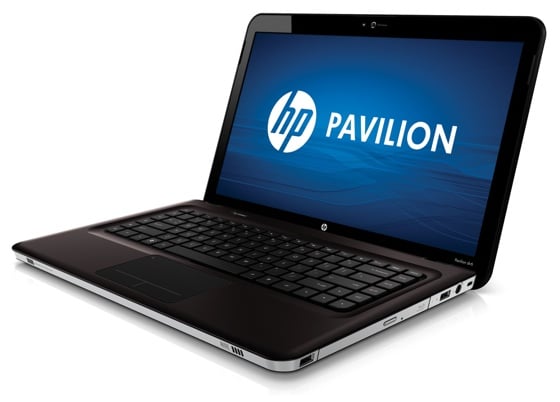 The HP Pavilion dv6: some come with Intel CPUs, others with AMD chips
To the right of the touchpad HP has adorned each laptop with three stickers that tell a tale. The AMD-powered machine, the dv6-6102sa runs Windows 7 on an AMD A6-3410MX "APU" - for Accelerated Processing Unit, as AMD calls its new chips - and boasts of its "Quad Core" and "Radeon Dual Graphics" technologies.
The A6 APU combines a quad-core processor with an integrated Radeon HD 6520G graphic core containing 320 shaders. It can be used in conjunction with a second, discrete GPU taken from a long list that range from 160 shaders to 480 shaders.


In the case of the dv6-6102sa, the add-in graphics chip is a Radeon HD 6490M. It lies in the middle of AMD's discrete mobile GPU line-up.
The list of graphical permutations in a Llano laptop is enormous. However, the processor side of things is fairly straightforward. The A4 has two cores, while the A6 and A8 are quad-core parts. The base clock speeds range from 1.4GHz to 2.1GHz.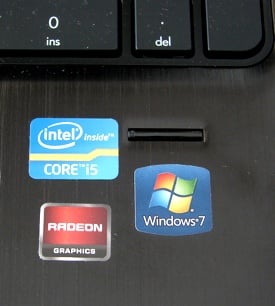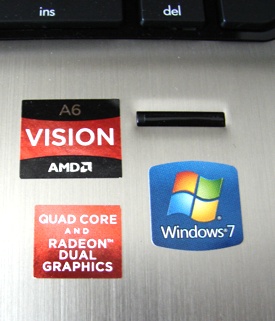 One chassis, two sticker collections: the HP Pavilion dv6-6051ea (left) and the dv6-6102sa (right)
It's a similar story with the A4 and A8 APUs - 240 and 400 integrated shaders, respectively - which can also be used in dual graphics mode.
Intel's range of Core i3, i5 and i7 processors is more extensive than the AMD offering, and gives you the choice of either two or four hardware cores plus, in some case, Hyper Threading to double those total with virtual cores.
Base speeds range from 1.3GHz to 2.6GHz, but these may be auto-overclocked using Turbo Boost technology.
Similar topics