Speeds and feeds
Whichever Intel processor you choose from its mobile range, the integrated graphics core will be a GMA HD 3000 which packs a mere 12 unified shaders that run at 650MHz.
The second HP laptop, a Pavilion dv6-6051ea, comes with a Core i5-2410M: 2.3GHz and dual-core with HT. However, the stickers on the chassis also proclaim that the laptop has "Radeon Graphics". HP has fortified the Intel HD 3000 graphics with a Radeon HD 6490M chip, just like the one in the dv6-6102sa.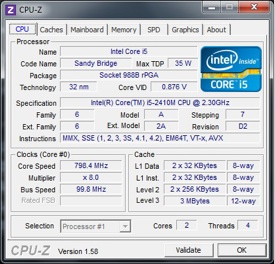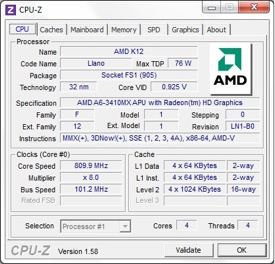 CPU-Z readouts: Intel Core i5 (left) and AMD A6 (right)
The 6490M, as I've said, is a middle-of-the-road part. However, here it overcomes a significant flaw in the spec of the Intel laptop. It supports DirectX 11 - the GMA HD 3000 only stretches to DirectX 10.1.
As you'll see from my test results, the dv6-6051ea will run the 3DMark11 benchmark quite happily in 'as delivered' form. But as soon as the AMD GPU is disabled to show the Intel hardware at work, the test refuses to run. Intel's chippery isn't up to the job.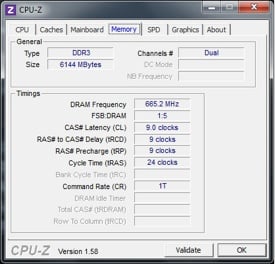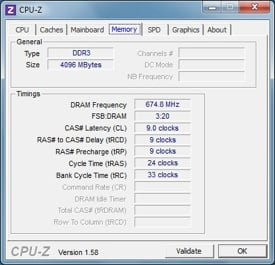 CPU-Z memory: Intel Core i5 (left) and AMD A6 (right)
In other areas, Intel has the edge over AMD, specifically with its support for the SSE 4.2 multimedia instruction set - AMD only supports SSE 4A. Intel also has Quick Sync Video encoding in Sandy Bridge, which I'll come to shortly.
Take a closer look under the bonnet and you'll see that AMD has loaded each of the A6's cores with 128KB of L1 cache and 1MB of L2. By contrast, Intel endows the Core i5 with 64KB of L1 and 256KB of L2 but adds 3MB of shared L3.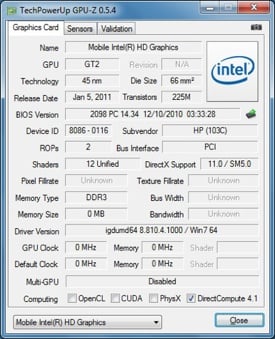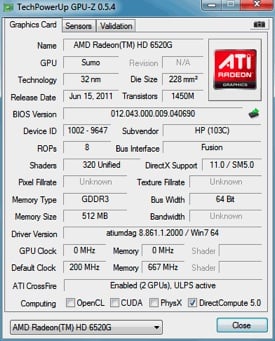 GPU-Z: integrated graphics from Intel (left) and AMD (right)
AMD has a larger quantity of fast cache. However, Intel has the advantage in terms of clock speed. The AMD A6-3410MX has a clock speed of 1.6GHz that ratchets up to 2.3GHz, while the base speed of the Core i5-2410M is 2.3GHz can Turbo Boost to 2.9GHz.
So much for the technical details - how do the two laptops compare in action?