October 14 declared 'Steve Jobs Day'
Rumors buzz over Jobsian bow at Tuesday's iPhone roll-out
---
As rumors spread that Apple's cofounder and former CEO might show up at Tuesday's "Let's talk iPhone" event, a group of clever fanbois has proclaimed next Friday, October 14, as "Steve Jobs Day", and has asked the world to celebrate "a day to honor the man himself and say thank you."
The rumors fluttering around the interwebs that Jobs might steal some of new CEO Tim Cook's fire by making an appearance at the iPhone event are based solely on an unsubstantiated Reuters article that mentions, in passing, that Jobs "is expected to make an appearance."
Perhaps. Perhaps not. But Steve Jobs Day is a certainty, inaugurated "by fans of Steve Jobs at Studiocom," a marketing firm based in Bogota, Boston, and Atlanta.
"Wear a black turtleneck to work. To school. Anywhere and everywhere," suggests the Steve Jobs Day website, which also invites Jobsian fanbois to share their enthusiasm on a celebratory Facebook page.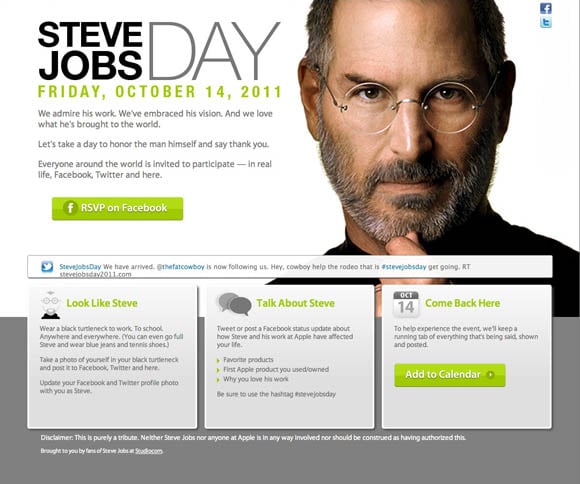 'You can even go full Steve and wear blue jeans and tennis shoes', advises Studiocom
Not that we at The Reg wish to downplay the contributions of Mr. Jobs, but we would like to modestly suggest that "Steve Jobs Day" may not overshadow other historical anniversaries celebrated on that day. In 1066, for example, there was a wee battle in Hastings that had some long-term effects.
Then there was Robert the Bruce slapping Edward II about in 1322, and Mary Queen of Scots, poor dear, going on trial in 1586. Not to mention, of course, the Chicago Cubs winning their most-recent baseball World Series on that date in 1908. Poor dears.
Although the hagiographers at Studiocom note that "This is purely a tribute. Neither Steve Jobs nor anyone at Apple is in any way involved nor should be construed as having authorized this," we suggest that the word "marketing ploy" might be more accurate than "tribute".
After all, we had never heard of Studiocom before today, and we'd wager that neither had you, dear reader. Now we have. ®