Apple may be an unstoppable force in the eyes of its competitors, fans and pretty much everyone else, but no one more so than the webmasters running Apple.com.
A couple of hours into the company's "Lets talk iPhone" event Tuesday, trying to access Apple's homepage, online store, and most other sections of its website was like a game of Russian Roulette, with only about one in six attempts succeeding.
The majority of tries resulted in an "Access Denied" error message that told shocked Apple fans: "You don't have permission to access "http://www.apple.com/" on this server."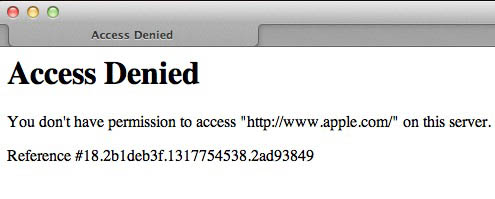 Apple.com on 'Let's talk iPhone' day doesn't portend well for iCloud
Not that news sites attempting liveblogging of the event fared much better. Coverage from gdgt.com was completely down for the count, at time of writing, while live reporting from CNET, All Things D, and Mashable limped along like a two-legged dog.
If the spotty coverage wasn't enough, fans were really whipped into a froth by the content of the Apple event, or more to the point, the lack of content, specifically, no mention at all of the much-anticipated iPhone 5.
It was more than some Twitter users could bear. Wrote one user named demiroquai: "I shave my balls for this?" ®