Facebook has rebuffed claims that a patent it was recently granted describes the ability to track logged-out users.
A company spokeswoman told The Register that the "Communicating Information in a Social Network System about Activities from Another Domain" patent, which was granted by the US Patent & Trademark Office (USPTO) on 22 September, was about "creating a social experience".
She said it wasn't intended to track users as claimed by various bloggers over the weekend, adding: "That is my understanding, anyway."
Facebook pointed at section 0099 in the patent document, in an effort to assure us that it wasn't tracking anyone not logged into the network.
"Some people have suggested that this application is intended to patent tracking of logged out users. Nothing could be further from the truth," retorted the company.
"Instead, a careful reading of the application shows that the patent is actually describing a fundamental part of Facebook Platform - creating social experiences across the web without logging into Facebook repeatedly or third-party sites at all."
Facebook applied for the patent on 8 February this year, and the invention was granted by the USPTO last month. On the 23 September - the day after the patent was anointed - the company revised its data use policy.
But there isn't actually a smoking gun in the document, even if does mention the word "unicorn" by way of explaining how its "conversion tracking" works.
Conversion tracking - measuring how many people actually go on to buy or do something with a site after clicking through an advert - is a method long used by the likes of Google and Microsoft to grease their ad engines and ultimately generate more cash from marketing campaigns.
In fact, conversion tracking isn't new to Facebook either. It seems the latest patent simply demonstrates how the company is trying to refine its tech to squeeze more revenue juice out of other websites that use its social plugins, and in turn help advertisers nail how effective their ads are.
Here's more from the firm's spokeswoman: "What is being described in section [0099] of the application is the fact that you don't have to log into Facebook again at each third party site in order to see social plugin content. You just have to be currently logged in to Facebook when you visit the site."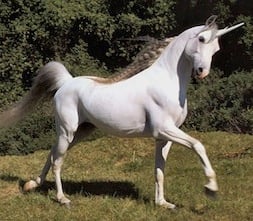 A unicorn shies away from an approaching patent lawyer
Put another way, if you're running Facebook on the same browser as the one you use for all your surfing needs on the net, then expect the ubiquitous social network to track many of your online clicks via its huge, pulsating [horrid biztalk alert] partner ecosystem.
And it's important to note that Facebook confirmed two years ago that it would soon be sharing much more user data with its ad pals.
"Most advertisers already do this [conversion tracking] in other places on the web. Should Facebook provide this, we'll continue to respect your privacy by not sharing your information with advertisers, and we'll anonymise any information we receive," said the company in October 2009.
Now, ahead of going public next year, the "Communicating Information in a Social Network System about Activities from Another Domain" patent simply demonstrates that Facebook is serious about playing with the big boys when its comes to juicing data online.
For some time the Mark Zuckerberg-run outfit has been morphing into a platform. Its wonks insist, too, that they don't really think of themselves as a social network.
All very true. Facebook is a company vying to be the world's biggest ad broker by building its very own content silo with search powered by Microsoft's Bing. Third parties are invited to enter Zuck's ranch as long as they play by his rules. See the recent Spotify romance for reference.
Facebook might argue convincingly that it doesn't need Google to achieve all of this. But the truth will out only after the company that is said to be worth more than UK retail giant Tesco drops its private tag and starts sharing its revenue secrets with the world. ®
Similar topics