This article is more than 1 year old
Fusion-io deploys PCIe flash toaster
Self-healing powers claimed if you play the magic card
Fusion-io has refreshed the whole of its ioDrive product range with smaller flash chip dies and new controller firmware to produce high performance, longer lasting flash using less silicon.
CEO David Flynn said the current ioDrive technology was introduced four years ago and Fusion was now "introducing something that will toast it. This thing is a beast".
The ioDrives are PCIe-connected cards in half-length format and use NAND chips that are either single-level cell (SLC) or 2-bit multi-level cell (MLC) and require a 29nm to 20nm process (2Xnm). We think this is Samsung NAND using a 27nm process. There's a half-height ioDrive and a full-height ioDrive Duo to choose from.
The 2Xnm NAND is inherently slower than 3Xnm dies, but Fusion says its controller technology, including its firmware, more than compensates for this.
Flynn says Fusion can use the cheapest commodity 2Xnm dies and give it performance and endurance such that second-generation ioDrives out-perform first-generation products. There's no need, he says, to use enterprise-grade MLC (eMLC).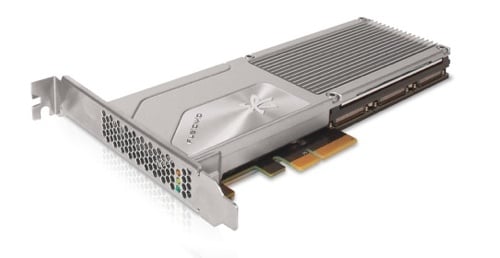 ioDrive 2
There is a new card design with the flash mounted on up to three daughter cards attached to the base card.
The ioDrive 2 comes in SLC form with capacities of 400GB and 600GB. It can deliver 450,000 write IOPS working with 512-byte data blocks and 350,000 read IOPS. These are whopping great increases, 3.3 times faster for the write IOPS number, over the original ioDrive SLC model which did 135,000 write IOPS and 140,000 read IOPS. It delivered sequential data at 750-770MB/sec whereas the next-gen product does it at 1.5GB/sec, around two times faster.
There is an MLC version of the ioDrive 2 which comes in 365GB, 785GB and 1.2TB capacity points.
The SLC version of the larger format ioDrive 2 Duo has a 1.2TB capacity point and the MLC version 2.4TB.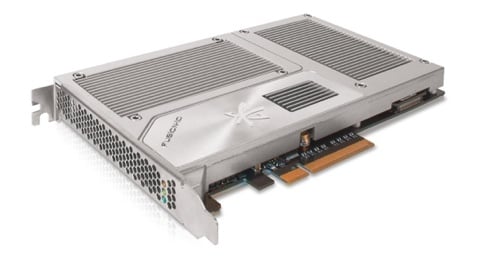 ioDrive 2 Duo
How fast?
The SLC version of the ioDrive 2 Duo can deliver 900,000 write IOPS and 700,000 read IOPS, at 3GB/sec. The first-generation product did 262,000 and 261,000 respectively, at 1.5GB/sec reading and 1.1GB/sec writing speeds.
Flash product suppliers generally quote IOPS numbers using 4KB data blacks whereas Fusion typically uses 512B blocks. A 4KB block size aligns with flash's 4KB page size but 512B blocks require a read, modify, write process. This is not necessary with Fusion-io's products, according to Flynn.
We have one set of 4KB block IOPS numbers from Fusion: the 1.2TB, SLC ioDrive 2 Duo does 503,000 read IOPS with 4KB blocks and 664,000 write IOPS.
Flynn emphasises that the performance comes at low queue depth. Typically, he says, performance is quoted by suppliers with a high queue depth so that the parallelism in a product's controllers can really get the data moving. But real world experience is lower queue depths, because flash responds so quickly. Here Fusion's products speed along while competing ones, typically comprised of, he says, RAID controllers, SandForce controllers, and flash dies, start limping.
He also asserts that Fusion's products perform very well with mixed read/write workloads, whereas other products show a bathtub effect: high numbers for pure reads and writes but much lower ones for mixed workloads.
A Fusion spokesperson said: "The cards are only now going through performance tuning. In addition, we expect Intel's new Sandy Bridge processors to have a major beneficial impact since our design is built to leverage system processor improvements."