This article is more than 1 year old
id Software's Rage
Apocalypse wow
Review Is it an RPG? Is it a first-person shooter? This is a question which reverberates around my mind while I wander through Rage's wastes. Why the confusion? Because id's latest shooter hovers somewhere in the middle of these genres, a chimera with, oddly enough, lashings of Motorstorm-esque racing thrown in for good measure.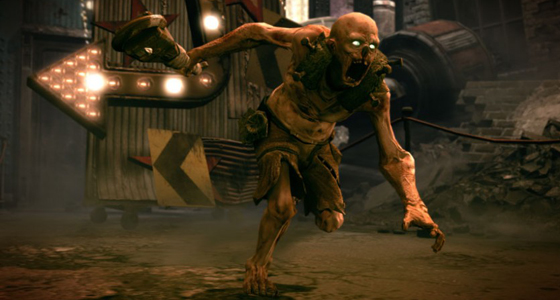 Wide eyes, zombie-like grin... typical clubber
Of course, these things come as no surprise. I've followed Rage's long gestation - this is an id shooter after all - with excited apprehension as press releases after press release unveiled the game's many intricacies. No Quake-style multiplayer, for example; a robust driving section included; huge installation sizes, notably for consoles; a co-op mode which supports the single-player campaign; the list goes on.
Rage, for those not in the know, is id's latest attempt to overhaul the FPS genre. Sporting a brand new engine, "id Tech 5", and variations on the developer's usual unsubtle shotgun-in-the-face formula. Set in a post-apocalyptic world - whatever next? - players assume the role of an ARK survivor – that's someone who rode out the world-ending Apophis meteorite in an Eden Project-style capsule.
Yes, Fallout fans might be thinking this all sounds very familiar. Well, prepare to have your suspicions confirmed as - yup - said future isn't at all that was planned. The world has descended into rampant chaos as civilisation broke down, gangs formed and mutants, well, mutated.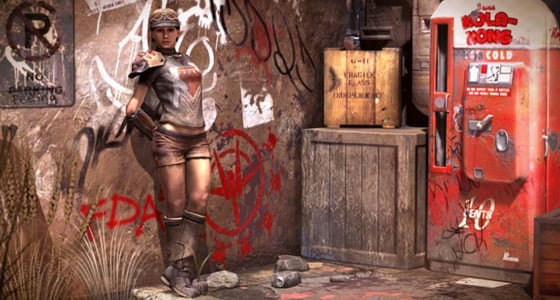 I know what you're thinking... but it's out of order
And there's the Authority, a totalitarian armed force whose iron grip over the game's aptly named Wastelands, is all but total. Looks like we might need to join some kind of resistance then, huh?
Upon emerging from ARK into daylight, the player is treated to one hell of a vista: blue sky, clouds, an eerie far off plume of smoke and mile after mile of twisted, corroded landscape. It seems id's Tech 5 is no mere hyperbole, "even" on an Xbox 360.
And just to answer the obvious question: I'm playing the 360 version simply because most of us don't have a PC with hardware expensive enough to really do Rage justice. For those interested, I installed disc one only. Load times are bearable, but textures do have a tendency to load in off the disk when under close inspection — distracting but by no means experience destroying.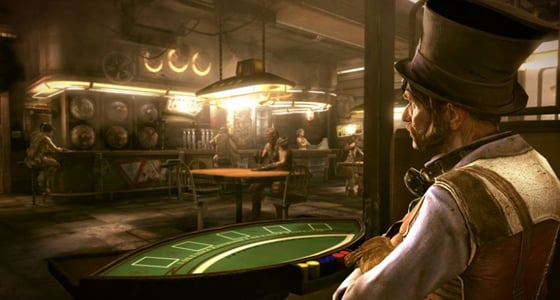 Mad hatter, Blackjacker
After a brief introduction to the game, your newly emerged Wastelander will find himself under the protection of the John Goodman-voiced Dan Hagar, over at a small garage settlement. As Rage's protagonist is taciturn, it's Dan who'll be doing the talking as he briefly introduces the Wastelands and asks you to go clear a local area of bandits.