Take the scenic route
The first thing I'd do in similar circumstances would be to ask what's happened in the years I've been underground. Are there were any other survivors like me? What happened to them? What is the political and geographical lay of the land?
Not so our hero, who simply accepts the mission and heads out with murder in mind, no questions asked. As I chugged my way over to the bandit's settlement in my buggy, I couldn't help thinking, "Where's my motivation?" A first, clipped hurdle in my integration into to the game.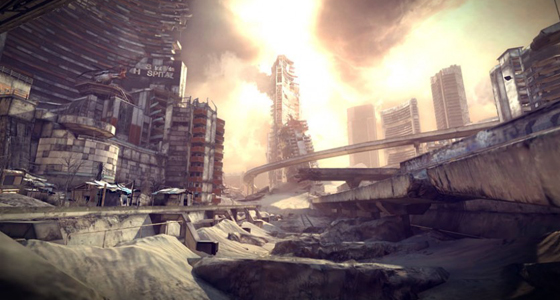 City, city, bang, bang
A musical score reminiscent of a Hitchcock thriller conjures an atmosphere edging toward the psychotic. One of Rage's surprise standouts, the audio, delivers a constant stream of context sensitive tension, impressively altering from location to location but unwavering in its sub-conscious affect.
At this stage of proceedings however, I'm still wondering exactly who the music is directed at: the bandit cannibals or the player character himself, happily blasting said bandits to bits on the word of the only person he's yet spoken to in this brave new world?
Regardless of conscientious objections, blast away I do, as bandits come at me with a mixture of close-quarters weapons and assault rifles. One of the first noteworthy impressions is the speed at which combat takes place. It's a breathless affair in which enemies throw themselves towards you if armed with blades, or take pot shots from cover if packing guns. It's a trend which continues throughout the game, the only difference being that these bandits are weak compared to later mutants and armoured Authority troopers.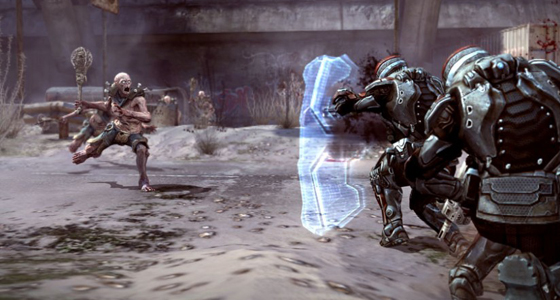 Loonies around the block
The AI does a good job of finding surprising angles to attack you from, mutants jigging at the last to strafe you, for example. The forementioned Authority soldiers come in a variety of flavours too, those equipped with energy shields often sheltering their comrades to increase their chances in a fire fight.
Then there are the various 'boss' characters, impressively handled for an FPS - Deus Ex, take note - and often requiring an almost Zelda-like strategy of repetitious damage in order to successfully fell them.
It's a good job enemies are so well drilled, as the player character is himself one awesome specimen of kick-ass. It transpires that ARK dwellers were all injected with Nanotrites - nanobots to you and me - which is how id explains away how your character's ability to regenerate health.
Not only possessed of healing that Wolverine would be envious of, your character can even resuscitate himself from the brink of death — a defibrillator mini-game activates if you take one too many shots. Successfully completed, said shock to the heart will not only bring you back into the fight but even electrocute your would be killers, so clearing the vicinity of hostiles.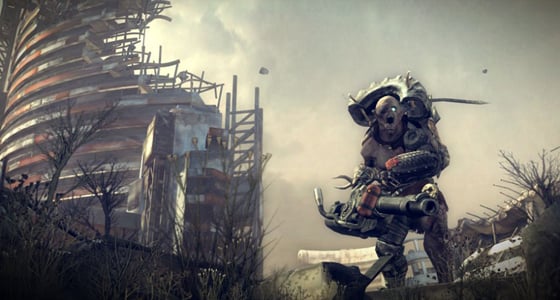 Lift your arms
It's almost too generous a health system, to be quite honest. The player is possessed of a toughness that makes a mockery of most of the threats he faces. Taken too many hits? Simply duck and cover for five seconds while you auto-heal. Can't wait five seconds? Then apply one of the many bandages you'll quickly accumulate to instantly boost your health.
A system whereby health only regenerates once all nearby enemies have been taken down would have seriously upped the tension of Rage's closely fought battles.
Sponsored: Webcast: Ransomware has gone nuclear