Ever wanted to get into space, armed with your three PhDs or test pilot's licence, but nothing suitable comes up in the Jobcentre search? Well luckily for you, NASA is hunting for a new class of astronauts - but, be warned, new recruits may wait a long time to get into space.
NASA is seeking astronaut candidates who will undertake long-duration missions to the International Space Station and future, possible, deep space exploration. They want to spend two years training up science, maths and engineering boffins who have dreamed of following sci-fi heroes' flight paths into space and pilots who have "extensive experience flying high-performance jet aircraft".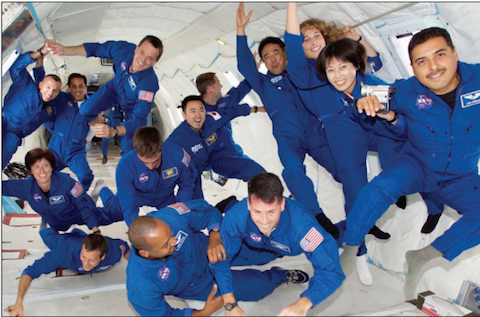 Worst game of Twister ever. Picture credit: NASA
Additional requirements on the job description sheet include the ability to pass the NASA long­-duration space flight physical, be between 62 and 75in tall, and possess some serious academic credentials - at least science postgraduate level. Oh, you also need to be a citizen of the United States.
In the years since the first manned space flight in 1961, NASA has only approved 330 astronaut candidates. There are 88 astronauts active in America today.
However, with US government retrenching on space spending, unless there is a substantial cash injection from somewhere, long-distance missions to Mars or beyond could be as far off as the 2030s. Even trips to the Moon have been kiboshed for the foreseeable future.
So it could well be that these novice 'nauts never get to go beyond the International Space Station, and not even frequently at that. The six-person station is also the sole space job provider for almost every astronaut on Earth: those of the US, Europe, Canada, Russia and Japan. Station crews change over on a four to six month cycle, meaning that on average - if the ISS is the only generator of manned missions on offer outside China - an astronaut can only expect to go into space every decade or so.
However it is crucial to keep astronauts trained and skilled up should funding suddenly rain down on the space agency, something that NASA head Charles Bolden stressed back in 2010 when the cuts were announced.
Bolden told reporters:
When we talk about going to distant places like Mars, the moon, an asteroid, we will not be able to take someone off the street, train them for a few weeks and expect them to go off and do the types of missions we will demand of them. We can't do that today. To me, that requires a professional cadre of astronauts.
Applications are now open and training begins in August 2013: see here for more info. ®
Similar topics