OpenWorld As part of the OpenWorld extravaganza being hosted by Oracle in San Francisco this week, Edward Screven, chief corporate architect at the software giant and the guy who is responsible for the company's Linux and Xen hypervisor variants, gave a brief preview of the next iteration of Oracle's homegrown Linux kernel.
Oracle Linux is compatible with Red Hat Enterprise Linux, or RHEL, which is the commercial grade version of that company's Linux operating system. At last year's OpenWorld, Oracle co-founder and CEO Larry Ellison announced that not only would Oracle be offering a clone of RHEL and offering support services for it, but that it would create its own kernel. This was necessary for Oracle to be able to fix bugs quickly and to provide features tuned to its specific systems, such as the Exadata database servers, the Exalogic application servers, and at this year's OpenWorld, the Exalytics in-memory BI appliances.
Oracle pulled even with Red Hat with Oracle Linux Release 6 Update 1, delivered in June of this year for 32-bit and 64-bit x86 servers. In that release, Oracle tweaked the Linux 2.6.32 kernel and also supplied Red Hat's variant of the kernel used in its own RHEL 6.1.
The application packages in the distribution are the same, with the red hats global replaced with a smirking image of Larry Ellison. (Well, not really.) In the RHELlison 6.1 clone, a bunch of technologies, such as the btrfs and XFS file systems, FS-Cache, and Linux containers, were put into preview, just like in the real RHEL 6.1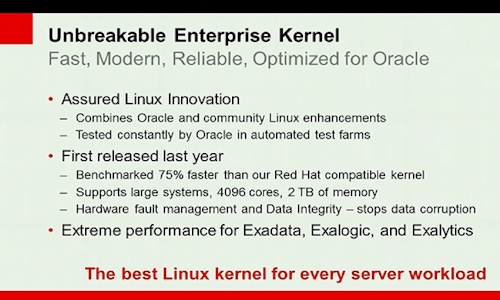 Oracle only recommends Oracle Linux.
In his Linux pitch, Screven made it clear yesterday that Oracle had no truck with RHEL. "We don't have Red Hat Linux inside of Oracle," Screven said, adding that Oracle's Linux was used in development as well as in production inside the company. And he made it clear that Oracle never recommends real RHEL, or any other Linux, for supporting its software. Oracle does not test its software for compatibility with any other Linux.
Using the first Oracle homegrown kernel, Oracle Linux has been benchmarked running 75 per cent faster than its Red Hat compatible kernel on certain (and unspecified) workloads, and Screven said that Oracle's Unbreakable Enterprise Kernel was designed to span up to 4,096 cores and 2TB of memory. (Those are the same limits inside of RHEL 6, by the way.)
Small wonder, then, that this time last year, Oracle had 5,000 customers using its own Oracle Linux variant, and Screven said in a keynote yesterday that the company now has 8,000 customers shelling out bucks to Big Red for Linux support. That number will only grow faster as Oracle sells more "engineered systems" with Oracle Linux embedded within them.
Screven did not offer much detail on what is coming in the next rev of the Unbreakable Enterprise Kernel, which is in beta testing now, according to an Oracle spokesperson. Here's what he flashed up quickly on stage: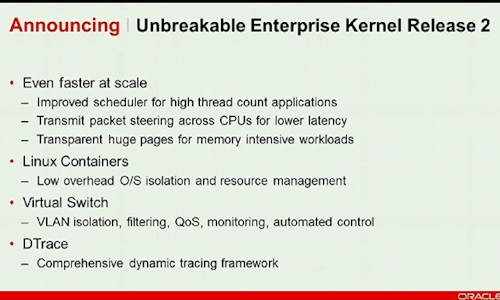 What's cooking in Oracle's second Linux kernel
The Linux container virtual private server feature is interesting, and it is worth considering if Oracle has learned how to do this well given its experience with Solaris containers, which are analogous. The inclusion of a virtual switch for virtual machines is also interesting in that you expect that to be in the hypervisor – that is where VMware, Cisco Systems, and Citrix Systems are putting them. The addition to DTrace dynamic tracing to Linux will also be welcomed, particularly by Oracle shops that want the same visibility into their systems software as it runs whether they choose Solaris or Linux for a particular workload.
Oracle would not say when this second release of its homegrown kernel would be ready for primetime.
Screven also announced that KSplice hot Linux patching was available with a Linux Premier Support contract. Oracle bought KSplice, which had created the hot splicing technique and which was trying to commercialize the technology, for an undisclosed sum back in July. ®
Similar topics